Cuphead Collector's Edition: What's Included?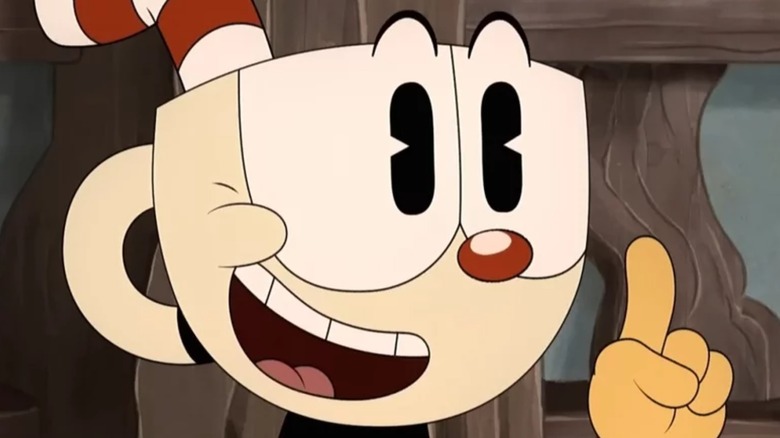 Netflix
Those wanting to preserve their adventures in the Inkwell Isles on their game shelf, rejoice — "Cuphead" finally has a physical edition. Courtesy of a collaboration between Studio MDHR and iam8bit, the throwback-styled run-and-gunner game is getting a physical release, as well as a special collector's edition.
Advertisement
While "Cuphead" has been out for a solid half-decade at this point, it had yet to receive a physical edition for any platform up until now. A physical version was confirmed years ago, Studio MDHR's plan was to wait for the "Cuphead" expansion "The Delicious Last Course" to launch first so it could be included in the release (via Nintendo Soup). As "Cuphead" delayed its DLC, so too did it delay the physical release of the game. Fortunately, players will soon be able to snag tangible copies of "Cuphead" for several modern platforms. But while the standard edition of the game is available for $40, the pricey Collector's Edition set contains some extra-intriguing "Cuphead" goodies.
The Cuphead Collector's Edition is super-vintage
Mirroring the original game, iam8bit's "Cuphead" Collector's Edition comes packed with novelties that harken back to a 1930s style. Here's everything that buyers of the bundle will get:
A physical copy of "Cuphead" with interior artwork, which is selectable for Nintendo Switch, Xbox One, or PlayStation 4. The "Delicious Last Course" expansion comes included on the disc or cartridge.

Advertisement

A functioning marionette of Cuphead, handcrafted by artisans at the Prague-based Rici Marionettes. It's functionally identical to the one used for the stop-motion "Cuphead" trailers.

A mini music box, which can be hand-cranked to play a tune.

Six collectible "Cuphead Funnies" cards, each of which features a single-panel comic starring the main characters, along with a few "Cuphead" bosses.

A "Cuphead Club" membership card, with each one individually-numbered to the purchaser.

A foldout poster, which features a map of the Inkwell Isles.

A game case sleeve, which depicts the playable "Cuphead" trio. It slides onto the game case, giving it even more of an old-timey appearance.

A transforming outer box, which can be positioned as a puppet stage with a starry backdrop and an asbestos safety curtain.

Advertisement
Between the music box, handcrafted marionette, and slew of other oddities, there's quite a few premium items included in the "Cuphead" Collector's Edition. Its price certainly reflects that fact, as the set retails at a premium price of $199.99. While it may not be for everyone, die-hard fans of "Cuphead" will likely get plenty of enjoyment out of these collectibles when the set releases in 2023.