Robbie Coltrane Reprised His Hagrid Role For This Lego Dimensions Quest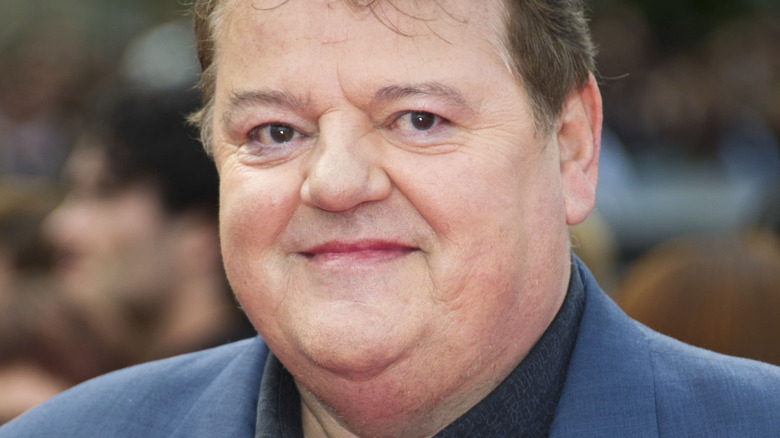 Featureflash Photo Agency/Shutterstock
Beloved Scottish actor Robbie Coltrane has passed away at the age of 72, according to The Hollywood Reporter. Best known for his roles in the "Harry Potter" film series and two James Bond films, Coltrane had been active in the film industry since the 1970s, building up an impressive resume of performances both comedic and dramatic.
Advertisement
In the "Harry Potter" movies, Coltrane played the role of Hagrid, the eccentric, half-giant groundskeeper at Hogwarts who looks out for Harry and his friends during their time at school. Playing this part meant a great deal to the actor, and Coltrane even became emotional when discussing his time as Hagrid during HBO Max's "Harry Potter" reunion special. Though modern audiences instantly associate Coltrane with the role, he did not revisit it very often outside of the silver screen, and certain not in video games.
For the majority of Hagrid's video game appearances with significant dialogue, the character has been voiced by actor Jonathan Kydd. However, there was one project that managed to sway Robbie Coltrane back to the role in a voice acting capacity, and it was one that celebrated creativity. That game was "Lego Dimensions," and it featured a quest that was centered all around Hagrid's tendency to take in stray animals of all shapes and sizes.
Advertisement
What was Hagrid's role in Lego Dimensions?
In 2016, Robbie Coltrane returned to one of his most iconic characters to voice Hagrid in "LEGO Dimensions." In the game's Harry Potter World, players can find Hagrid in Diagon Alley, where he offers a quest involving magical creatures he's not necessarily supposed to be raising. In the quest "Hagrid's Egg Hunt," players must look all over Diagon Alley to find these eggs because, as the groundskeeper explains, "if we had Acromantulas runnin round Diagon Alley," Hagrid would get into a heap of trouble. It's a fun little side quest, but it's also notable as the only time Robbie Coltrane ever voiced a video game character in his storied career.
Advertisement
"LEGO Dimensions" has a lot of voiceover work throughout, more than older games like "LEGO Star Wars" that hardly had any lines of dialogue at all. In fact, in "LEGO Harry Potter Years 1-4," Hagrid is voiced by Guy Harris via a series of grunts and grumbles. But if you go back to Harry Potter World in "Lego Dimensions" and take his quest in Diagon Alley, Hagrid will have a lot more than just a line or two to say. That alone makes this section of the game a real treat for fans of the character and the actor who brought him to live-action.