Sasha Grey Is Joining The Cyberpunk DLC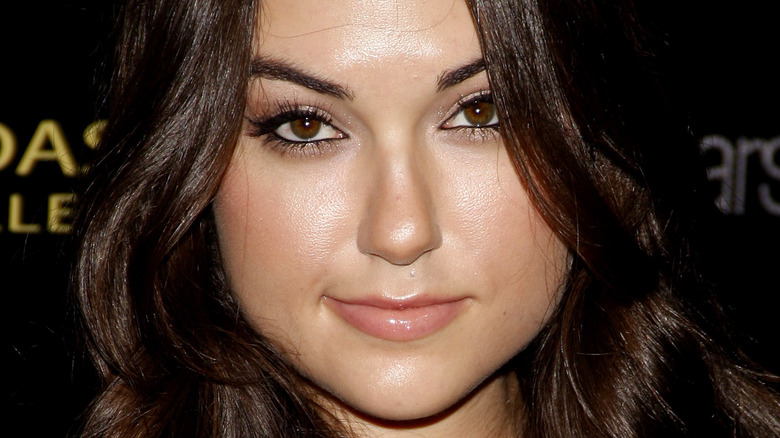 Tinseltown/Shutterstock
At one point, it seemed like "Cyberpunk 2077" — the sci-fi action-RPG from CD Projekt Red — would go down as one of the biggest disappointments in gaming history. Bogged down by glitches and bugs upon its launch, "Cyberpunk 2077" failed to live up to the hype that preceded it. However, after multiple big patches and the success of its acclaimed Netflix anime tie-in "Cyberpunk: Edgerunners," the game has seen what can only be called one of gaming's biggest comebacks and has experienced player counts at all-time highs. On top of this renewed success, "Cyberpunk 2077" will also be receiving its first (and only) DLC expansion in 2023 called "Phantom Liberty." While it has already been confirmed that Johnny Silverhand (played by Keanu Reeves) and V will be returning, not much else is known about what characters fans of the game may see when the DLC comes out.
Advertisement
As the release of "Phantom Liberty" draws closer, more details about it are sure to be revealed. However, fans were given some early insight into at least one of the characters that will be in the "Cyberpunk 2077" expansion when Twitch star Sasha Grey revealed that she will be voicing one of its characters.
Sasha Grey will play Ash in Phantom Liberty
Through the game's official Twitter profile, it was announced that Grey would be voicing a character named Ash in "Cyberpunk 2077: Phantom Liberty." Ash is a DJ in Night City — the voice of Pacifica radio station 89.7 Growl FM. This radio station is a new edition to "Cyberpunk 2077" as part of the "Phantom Liberty" DLC and will feature music that is performed by the game's player base — so long as it is inspired by a post featuring Pacifica comic book-style artwork. Artists can submit their tracks through the official "Cyberpunk 2077" website before November 30. The form requires submissions to be accompanied by the artist's name, track title, email address, and a file of the music.
Advertisement
Having previously had success as an adult movie star, Sasha Grey later transitioned into the mainstream with several appearances in TV shows, movies, and a few video games. To date, Grey has appeared in two video games in the "Saints Row" series — "Saints Row The Third" and its sequel "Saints Row: Gat out of Hell" — as former foe-turned-ally Viola DeWynter. Whether or not Grey's role in "Phantom Liberty" extends past being an in-game DJ remains to be seen.