The Nintendo 3DS Game That Takes The Longest To Beat
The Nintendo 3DS had its flaws, but it still existed as a bridge between the original DS and Nintendo Switch. Console gamers grinded through 3DS classics like "Pokémon Sun and Moon" and "Fire Emblem: Awakening" on the tiny handheld for hours. So, which one of these titles most filled players' free time? 
According to How Long to Beat, the longest 3DS game is technically "Animal Crossing: New Leaf." However, some might contend that it doesn't actually have an "end" due to the campaign-free gameplay in "Animal Crossing" games. It might have milestones, but it's hard to argue that it has a plot. Its average playtime for "All Styles" is 167 hours and the "completionist" playtime is 470 hours, during which players can spend their time doing drastically different things.
Thankfully, there's another contender for longest 3DS game right behind it: "Monster Hunter Generations." Also known as "Monster Hunter X, the game on average takes just a little less time than "Animal Crossing: New Leaf" to complete and it has a campaign. It takes about 155 hours to complete for all styles, which is just 12 hours less than the latter's average. As a bonus, it has a higher "completionist" time than "Animal Crossing: New Leaf" at 689 hours.
Here's what makes "Monster Hunter Generations" the longest 3DS title to beat.
Monster Hunter Generations is a big game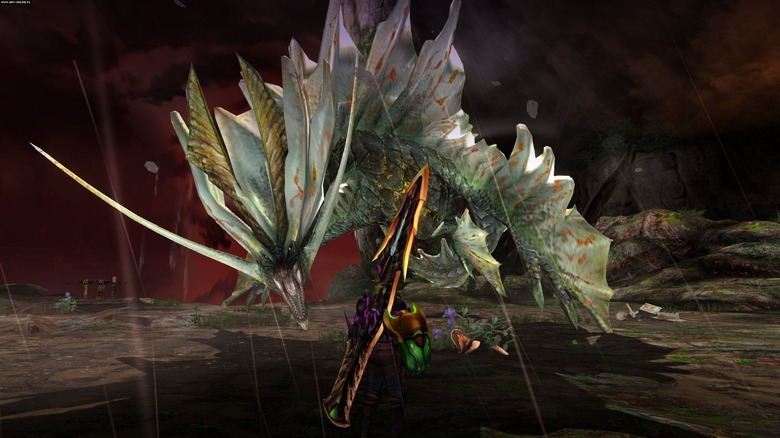 Capcom
Reviews, like IGN's, highlight the titular monster hunting (and the prep for it) as one of "Monster Hunter Generations'" biggest time sinks. 
"The endlessly rewarding loop of Monster Hunter games is hunting packs of wild prey and enormous beasts over and over until you gather enough resources to turn their body parts into fantastic-looking weapons and armor," said Jose Otero in his review. He also noted that the battles require lots of prep, which is the "slower part" of the action RPG.
Even regular players have reported slower progress because of all the quests in between the monster hunting that the game is supposed to be about. Some players seem to like it, though.
"I've done a bunch of gathering on every mission, am focusing on scouting the perfect Prowler...heck, I've even talked to every villager, just to see what they have to say," one Gamefaqs commenter said.
While some players may skip the fetch quests in "Generations" to focus on said story, resulting in a shorter playtime, the title still clocks in as the longest game (with a campaign) on the 3DS.