Why Crash Bandicoot Fans Are Looking Forward To The Game Awards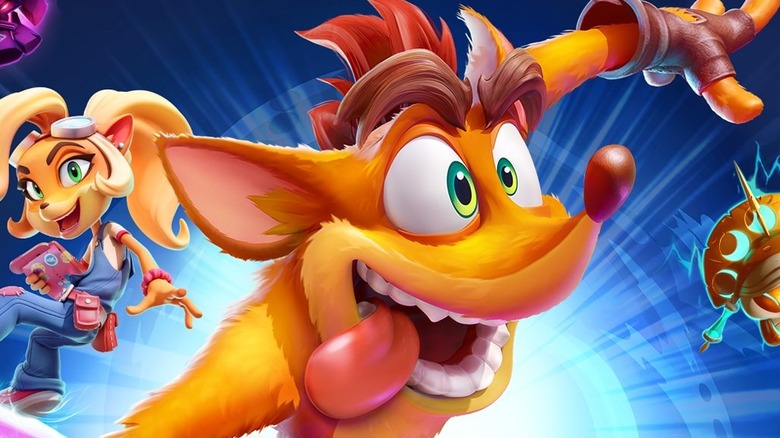 Activision
Gamers have plenty of reasons to look forward to the Game Awards this year. The annual event always showcases the best of the year while also offering plenty of previews of what to expect from the future. The show is usually a good source for news and reveals of the latest and greatest games. "Crash Bandicoot" fans are particularly excited when it comes to what might be revealed at this year's Game Awards.
Since the release of "Crash Bandicoot 4: It's About Time" in 2020 and its rerelease on the PS5 the following year, the series has been relatively quiet. Despite "Crash Bandicoot 4" being one of the best PS5 games of 2021, Activision hasn't shown any eagerness to reveal another game in the series since then. Recently, however, a press kit sent out to gaming journalists and streamers seems to hint that big news could be on the way at this year's Game Awards on December 8.
As revealed by YouTuber Canadian Guy Eh, some lucky individuals got deliveries of playful pizza boxes that, in addition to including some fun goodies, also seem to indicate that a new game is due to be announced at the Game awards.
New game, Wumpa League, may be announced at the Game Awards
The fake pizza box, bearing a logo for Aku Aku's Steam-In Pizza Shack, provided several hints about upcoming developments. First, Canadian Guy Eh worked out that the word steam in the logo referred to "Crash Bandicoot 4" coming to Steam on October 18. The bigger news, however, may have been revealed by the small sticker on the side of the box.
This sticker, made to look like the sort of price tag that gets attached to pizza orders, said "Hungry for more? Try our new Wumpa pizza for $12.08." While less obvious than the other hints on the box, Canadian Guy Eh did quickly come up with a solid guess about what this means.
Back in 2021, games journalist Liam Robertson revealed that a new, multiplayer game called "Crash Bandicoot's Wumpa League" was possibly in the works. Now, with a reference to Wumpa pizza, it's suspected that this PR package is revealing that "Wumpa League" truly is in development and that it will be announced soon. As for when, the price provides the clue here. $12.08 could be a hint to the date, December 8, which also happens to be when the Game Awards will take place.
Putting it all together, it's easy to see how fans could conclude that a new game is, indeed, set to be revealed at the event. While we won't know for certain until then, gamers certainly are optimistic at the moment.