How Long Does It Take To Beat Call Of Duty: Modern Warfare 2's Campaign?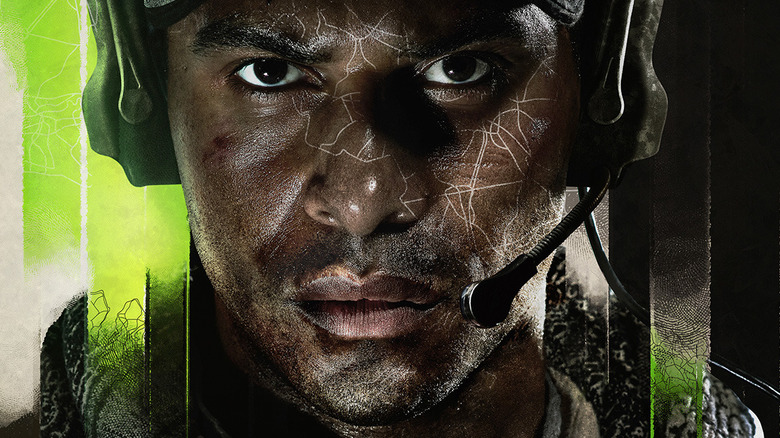 Activision
It wouldn't be a year in gaming without a new "Call of Duty" from Activision — at least, that's how it's been since the early 2000s. 2022 has honored that tradition by offering up "Call of Duty: Modern Warfare 2," a sequel to the 2019 entry "Call of Duty: Modern Warfare" that is also, somehow, not to be confused with 2009's "Call of Duty: Modern Warfare 2" remaster. Between several new traversal mechanics, a plethora of brand-new modes, and other changes, the title marks a compelling upgrade from prior installments for devoted fans.
But while the main attraction for many "Call of Duty: Modern Warfare 2" players may be its multiplayer modes, it also comes equipped with a single-player campaign, as per usual. 2019's "Call of Duty: Modern Warfare" rebooted the story of the original "Modern Warfare" games, and this new title continues the action and by bringing a few fan-favorite characters from the series' history back to the forefront. As such, the campaign promises a pretty good time for prospective players. Still, some may be wondering how long that fun will last before the credits roll.
Modern Warfare 2 has a brief campaign
Players of the "Call of Duty: Modern Warfare 2" solo campaign shouldn't expect to spend too much time hanging out with Captain Price and company. According to the polled users on HowLongToBeat, the game's campaign takes an average of 7.5 hours to see to the end. For players looking to do everything, the average completionist time runs slightly higher at 11 hours. The game features 17 different story missions in total, meaning each level should take a bare average of 25 minutes to finish.
While that runtime may sound short, it's in line with other recent "Call of Duty" titles, and is even a touch longer. HowLongToBeat lists both 2019's "Call of Duty: Modern Warfare" and 2021's "Call of Duty: Vanguard" as taking an average of just six hours to clear the main story. 
It seems that the "Call of Duty: Modern Warfare 2" single-player campaign also emphasizes quality over quantity. The developers have spoken at length about intricately crafting the game's missions, especially "Dark Water," which sees players carrying out a realistic battle on an oil rig. "We push the quality here for every game — we try to just make it more real and perfect," senior lighting artist Krzystof Wójck said in an interview on the official "Call of Duty" site. "People sometimes say, 'Oh it's just another Call of Duty game,' but it's not. There is so much work that people are not aware of for AI, the environment, scanning, making lighting more realistic." S
So, it may not be the longest game, but its quality shines through thanks to its realistic graphics and creative story missions.