Markiplier Fans Are Over The Moon For YouTuber's Emmy Nomination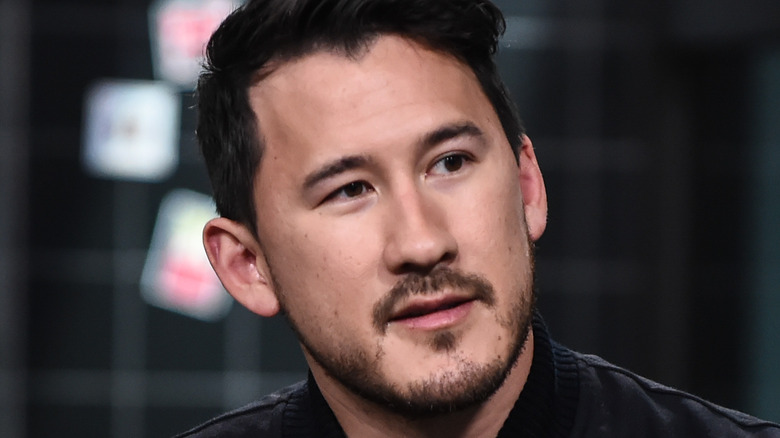 Daniel Zuchnik/Getty Images
Few YouTubers have been able to carve out the career that Mark "Markiplier" Fischbach has over the years. Since joining the platform in 2012, Markiplier has been renowned for his Let's Play videos featuring horror games, original content, and his signature deep voice. Thus far, Markiplier has amassed close to 34 million subscribers on YouTube with his page generating over 19 billion views to date, which the content creator has managed to parlay into mainstream success beyond his internet presence. This includes being able to make his own interactive films.
Advertisement
In 2019, Markiplier unveiled "A Heist with Markiplier," an interactive comedy heist film released on YouTube Premium. In the interactive movie, viewers play Markiplier's assistant in the aftermath of a heist gone awry. The film features 31 different endings, each one dependent upon which choices the viewer makes. "A Heist with Markiplier" was highly successful, generating over 40 million views and getting nominated for two Streamy Awards, winning for Best Scripted Series. Given how popular it was, it spawned a two-part sci-fi sequel called "In Space with Markiplier" in which viewers must make difficult choices to save members of a spacecraft. Like its predecessor, "In Space with Markiplier" received its fair share of praise and has garnered Markiplier an Emmy nomination for Outstanding Interactive Series. Given the prestige associated with the Emmys, the YouTuber's fans were predictably over the moon upon hearing the announcement.
Advertisement
Fans are buzzing over Markiplier's Emmy nomination
After revealing that he was nominated for Outstanding Interactive Series at the first-ever Children's and Family Emmys, Markiplier was showered with love from many of his peers and fans for such a huge achievement. Jacksepticeye — another massively popular content creator — mentioned how big of a deal his Emmy nomination was. Other big YouTube personalities such as Pokimane also congratulated Markiplier for the nomination. And, of course, his massive fan base also chimed in.
Advertisement
One user on Twitter shared a picture saying that they were "shaking and crying" because of the announcement while another offered a simple congratulations. Some commenters took it upon themselves to use this moment to request that Markiplier finally release an OnlyFans page, something which the YouTuber cheekily implied he would do recently should his fans be able to propel his podcasts "Distractify" and "Go! My Favorite Sports Team" to the top spots on Spotify in their respective categories.
Outside of "In Space with Markiplier," other nominees for Outstanding Interactive Series include Netflix's "Cat Burglar," Baobab Studios' "Namoo," as well as "Madrid Noir" and "Paper Birds" both produced by Oculus TV. The first inaugural Children's and Family Emmys will take place on December 11, 2022.
Advertisement