Marvel Snap: The Easiest Way To Get More Credits
"Marvel Snap," the deck builder/card battler game for mobile devices, has taken the world by storm. According to AppMagic, the game has made $5 million and has been downloaded roughly 10,000,000 times since its debut. As more and more players flock to the title, a growing number of them are looking for any way they can get ahead of the competition. One such way to do so is to amass as many in-game credits as possible. 
Credits can be used to level up your cards and purchase various in-game aesthetics. If you enjoy the collectible aspect of this deck builder, you're going to want to earn as many credits as possible. When it comes to finding those credits, you have a few options. For one, players can purchase the in-game currency known as gold to trade in for credits. Just as "Marvel Snap" players can earn gold for free, there are also a few additional methods for picking up credits.
Rack up credits by completing missions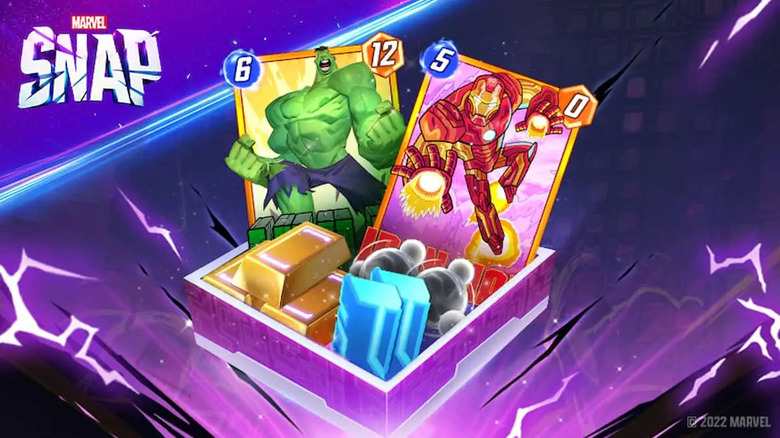 Nuverse
In order to collect credits for free, the best thing you can do is focus on completing missions. Every single day, various new missions are available for players to tackle. The criteria for these missions varies. In some cases, you need to play a certain number of one type of card. In other cases, all you need to do is win a set number of matches. Regardless, these missions tend to only take a few matches to finish. Given the fact that matches in "Marvel Snap" only last about 3 minutes, you can blow through missions rather quickly. 
There are other methods one can use to earn credits. For instance, completing Season Ranked rewards and Season Pass rewards. In order to attain Season Pass rewards, earn XP from completing missions. If you want to complete Season Ranked rewards, however, that's a little more difficult. You'll need to actually win matches. The more matches you win, the higher your Season Ranking becomes. Suffice it to say, there are plenty of ways to earn credits. Thankfully, the developers of "Marvel Snap" seem aware that not players want to empty their wallets to succeed in a mobile game.