Ice Poseidon Explains Why He Leaked Mizkif's Controversial Messages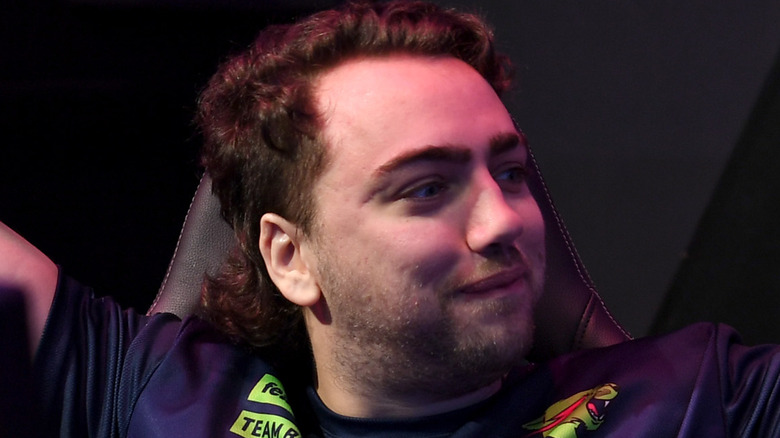 Denise Truscello/Getty Images
Popular Twitch streamer and YouTuber Matthew "Mizkif" Rinaudo has been making a lot of headlines in recent weeks, and not for good reasons. The 27-year-old content creator was previously accused of covering up assault allegations against fellow OTK member and roommate Crazyslick. Mizkif would later deny these claims, saying that he had no idea the kind of person Crazyslick was and that he had been kicked out of the house OTK members share. Since these allegations, Mizkif has kept a low profile on social media, though he has continued to upload daily videos. However, that hasn't done much to prevent him from being wrapped up in other controversies.
As the controversy around Mizkif continued to gain traction, former friend and collaborator Paul "Ice Poseidon" Denino would post screenshots of previous direct messages allegedly sent to him by Mizkif. These DMs include many off-color remarks supposedly made by Mizkif, including racial and homophobic slurs. Initially, it wasn't clear why Ice Poseidon — a previous associate of Mizkif — would leak images that would do further damage to the content creator's career. However, Ice Poseidon has recently opened up regarding the reason why he attempted to bury Mizkif under even more layers of controversy.
Ice Poseidon claimed that disrespect was the reason for leaking the screenshots
In a recent appearance on The Harmonious Hour Podcast with YouTuber Harmonious Man, Ice Poseidon was asked about why he leaked Mizkif's controversial DMs despite the two previously being friends. According to Ice Poseidon, the leaks were a result of Mizkif allegedly disrespecting him after the latter became more popular on Twitch. "We used to be friends, and then he became a big Twitch streamer, and then started disrespecting me on his streams with backhanded compliments and bull****," Ice Poseidon said about Mizkif's initial rise on Twitch. According to Ice Poseidon, despite requesting that Mizkif stop with this alleged disrespect, the streamer continued.
Ice Poseidon initially just shrugged off the entire ordeal and refused to publish the screenshots as he thought it would be an underhanded tactic. However, after the assault allegations and Mizkif taking a hard stance against gambling on Twitch, Ice Poseidon decided it was fair game. "These streamers that are pretending to be angels are, like, going after other people's livelihoods and, like, trying to ban gambling and all this f***ing bull****," Ice Poseidon said. "I just think people should stay in their own f***ing lane. When you start leaving your lane to f*** with other people, or for your content, it's sort of like, it's very annoying to watch as a viewer." It seems Ice Poseidon later became tired of Mizkif's moral posturing and also took offense to the perceived disrespect he had shown him and decided to leak the screenshots.