Finally, A Gaming Chair That Warms Your Burgers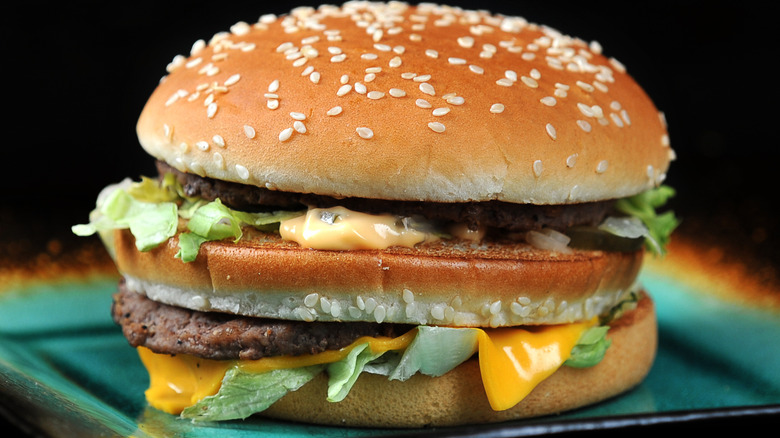 Fordeno/Getty Images
Ever wanted a gaming chair with a bespoke slot for keeping a cheeseburger warm? No? Well, McDonald's has you covered anyway.
As part of McDonald's UK's rollout of the new McCrispy menu item, the fast food giant is holding a sweepstakes event in which residents of Great Britain can enter for a chance to win — yes — an official McDonald's McCrispy Ultimate Gaming Chair. Not only does the chair sport a striking yellow-and-black color scheme along with the word "McCrispy" slathered all across its oblong body, but it even incorporates a bizarre set of fast-food-focused features, including the ability to keep your burgers hot, ready, and waiting while you get down to some hardcore gaming.
For some, this might be up there with the dumbest things McDonald's has ever done. For others, though, it could prove to be nothing short of a revelation. Regardless, let's take a closer look at this beast of a chair.
All hail the ultra-rare burger chair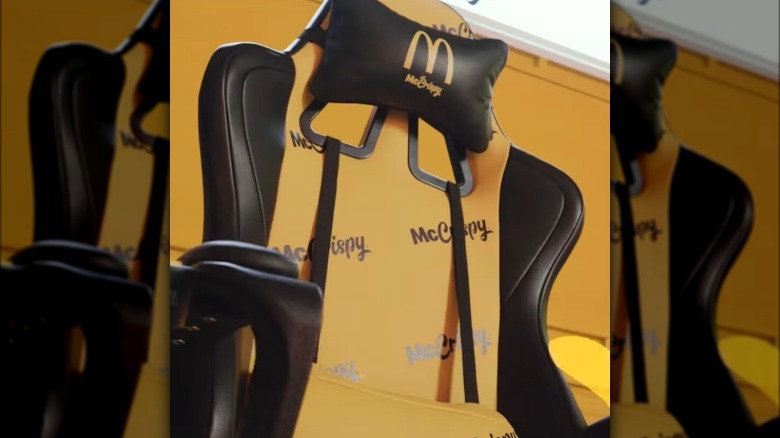 McDonald's
The McDonald's McCrispy Ultimate Gaming Chair may not do much to enhance your gaming ability, but it certainly offers an upgrade to your lunchtime experience. The left and right arms of the chair respectively sport a "heat zone" apparatus for keeping burgers warm and a panel with form-fitting divots to slot in a container of fries and two sauces. What's more, the chair comes adorned with two reusable napkins, which also prominently feature the McCrispy branding for all to see. Finally, for those worried about what unsavory impact the consistent presence of fast food might have on such a piece of chic furniture's upholstery, the chair is fashioned with a stain-proof leather treatment.
While the announcement may invoke shades of KFC's infamous KFConsole promotion from 2020, rest assured — this fast food chain's gaming product will actually see the light of day, albeit in an extremely limited quantity. Multiple chairs have been confirmed to be in existence via various promotional materials, but the sweepstakes' guidelines state that only one lucky winner will be the one to give a McDonalds gaming chair a new home. The two runners-up will receive a neon lighting kit instead. Anyone who would like to enter into the sweepstakes has until the end of the day on November 13. 
To whomever ends up winning the esteemed McDonalds gaming throne, a heartfelt congratulations on your achievement. Just remember to clean those McCrispy-covered hands before you go anywhere near that mouse and keyboard.