How To Auto-Equip Your Highest Level Gear In God Of War Ragnarok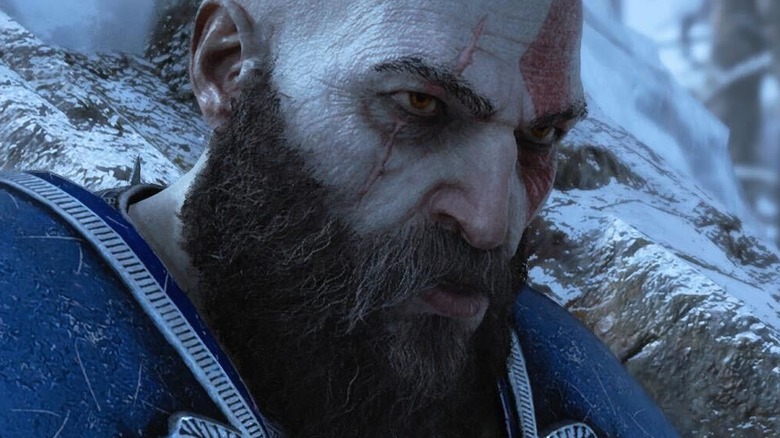 PlayStation Studios
"God of War Ragnarok," the PlayStation-exclusive action-adventure game from Sony Santa Monica, has finally arrived. And now fans can continue on Kratos and Atreus' journey through the Norse pantheon, fighting the many gods of that mythology. To help players prepare for their journey in "God of War Ragnarok," PlayStation has released a set of tips for players on the PlayStation Blog, including some information about the revamped equipment system — which now lets players auto-equip gear if they choose.
There is a ton of important information in the blog post, like how gamers can now upgrade all equipment to max level and that crafting resources become available in the shop as players advance through the game. Of course, many of these details will be important during the roughly 40 hours it takes to beat "God of War Ragnarok," since Kratos' adventure will surely be a bit easier if players spend a little time hunting down and upgrading gear. Thankfully, with the auto-equip option, players won't have to spend even more precious time navigating through menus. Here's how players can auto-equip their best gear in "God of War Ragnarok."
God of War Raganrok: how to auto-equip your best gear
PlayStation Studios
According to the PlayStation Blog, players can activate the auto-equip function by pressing L3 while in the weapons or armor tab. This will bring up the auto-equip function, which will prompt players to pick a stat priority, like Strength, Defense, Luck, or Runic. From there, the game will select the best possible gear in players' possession, breaking any ties by going with an item that favors the stat category chosen.
This function works the same for both armor and weapon attachments, meaning that anyone seeking to maximize armor and weapon effectiveness won't have to feel like a trip to a math class. While players will still likely need to utilize the upgrading system and other aspects of the armor menu during the game, using auto-equip should cut down on the amount of time spent away from what many critics felt was a near-perfect game.