Everything Added In Marvel Snap's Warriors Of Wakanda Season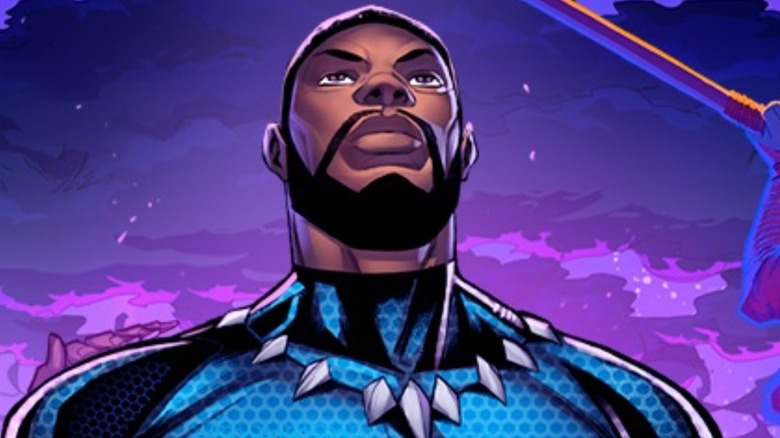 Nuverse
Despite being out for less than a month, "Marvel Snap" has already been a huge success for developer Second Dinner and Marvel. Similar to other virtual card games like "Magic: The Gathering" or "Hearthstone," "Marvel Snap" allows players to build up a deck of cards of all their favorite Marvel heroes to battle with others. In addition to impressing most critics, "Marvel Snap" also brought in over $2 million during its launch week despite being a free-to-play title (via Destructoid). And having completed its first season, Second Dinner is now moving on to its next chapter, which is all about "Black Panther."
The first season of "Marvel Snap" was called "Symbiote Invasion" and was completely focused around "Spider-Man," introducing characters like Miles Morales, Spider-Woman, and Carnage into the title. With the highly anticipated "Black Panther: Wakanda Forever" slated to hit theaters this week, it's only natural that "Marvel Snap" focuses on "Black Panther" for its second season and battle pass. This season is called "Warriors of Wakanda" and it adds some pretty cool new content to an already thriving card game. The new additions are plentiful with "Warriors of Wakanda" boasting a new card, variants, locations, and cosmetic items. Here's everything you can earn in this new season.
Black Panther has been added, as have new variants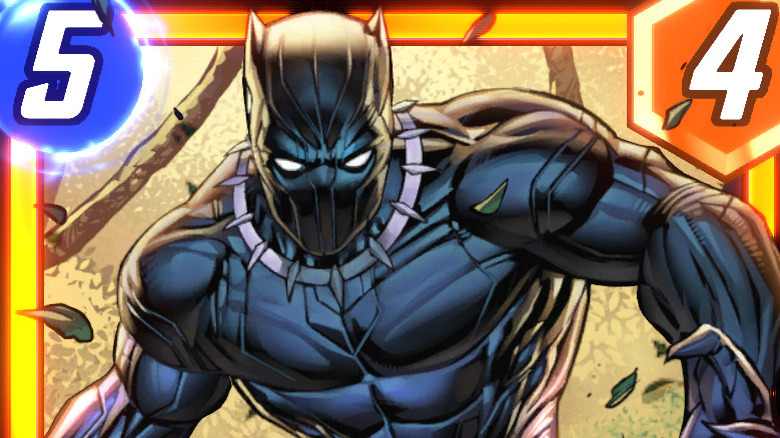 Nuverse
Of course, when it comes to "Marvel Snap," the first additions players will be looking forward to are the cards. Due to the "Warriors of Wakanda" theme that is currently running, the new card that has been added is none other than T'Challa himself, Black Panther. Right off the bat, the Black Panther card seems formidable — shown to have 5-energy and 4-power — and will double upon its reveal. Not too shabby.
Another new addition are variant cards for "Black Panther" characters that are already in the game, as well as one for Black Panther himself, which will be granted upon reaching certain levels of this season's tiers. These variants include Okoye and Nakia, both of whom might fare well when paired with Black Panther in your deck, due to the fact that they both directly can boost his attributes (via Polygon). The official "Marvel Snap" YouTube account also recommends that Black Panther be paired with Wong due to the fact that the latter can provide T'Challa with a second boost. Overall, Black Panther's addition is a welcome one and could change the way you play the game and build your deck this season.
Four new locations and cosmetics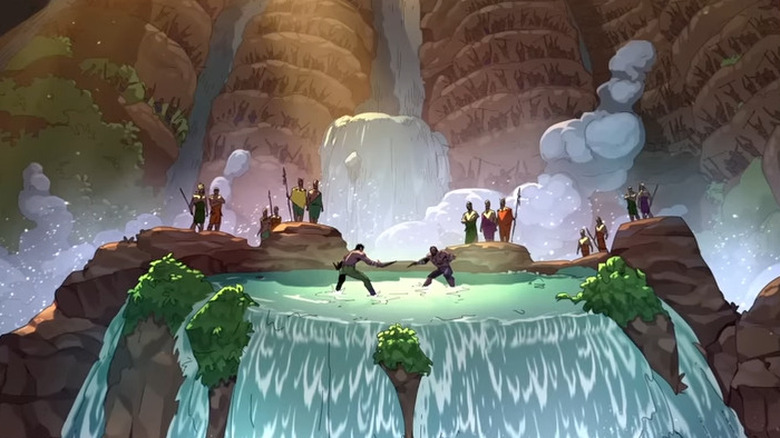 Nuverse
Also introduced as part of "Warriors of Wakanda" are four new locations. The locations include Warrior Falls, Shuri's Lab, Vibranium Mines, and the Wakandan Throne Room. These locations can all add different boosts and benefits depending on which ones are played. For instance, playing Warrior Falls means that cards will attack whichever card is weakest. Vibranium Mines will shuffle three Vibranium into your deck. Shuri's Lab will double a card's power, and finally, using the Wakandan Throne Room will double the power of your highest Power card (via Kotaku).
Of course, not every addition that comes with "Warriors of Wakanda" is purely gameplay based. Others are completely cosmetic. This includes new card backs, all based upon "Black Panther" lore and imagery. Listed in the news release are two card backs — one depicting a silver variant of the "Black Panther" logo and another with a Vibranium spearhead on it. Other cosmetic items include avatars depicting both T'Challa and Nakia.