Fortnite X MrBeast Crossover Revealed By Leaker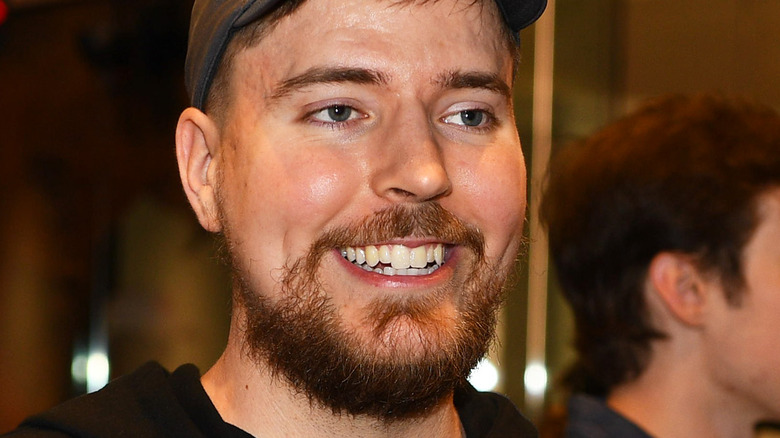 Dave Kotinsky/Getty Images
It appears a crossover with MrBeast will soon be on the menu for "Fortnite." A new leak has revealed that the battle royale juggernaut is seemingly set to feature a collaboration with the influential content creator, who has amassed over 111 million subscribers on YouTube. This isn't your typical case of datamined files either, as references to the event have been directly spotted by an attendee at an official in-person "Fortnite" competition.
Of course, a collaboration between "Fortnite" and MrBeast may not seem all that surprising, considering the game's track record of featuring cosmetics based around content creators in the past. Ninja, TheGrefg, and Lachlan are just a few of the streamers who have their own skins in "Fortnite" thus far. However, this apparent crossover with MrBeast still looks to break the mold of what has come before, as it's not necessarily a collaboration with the creator himself — it's with his fast food chain.
MrBeast Burger is headed to Fortnite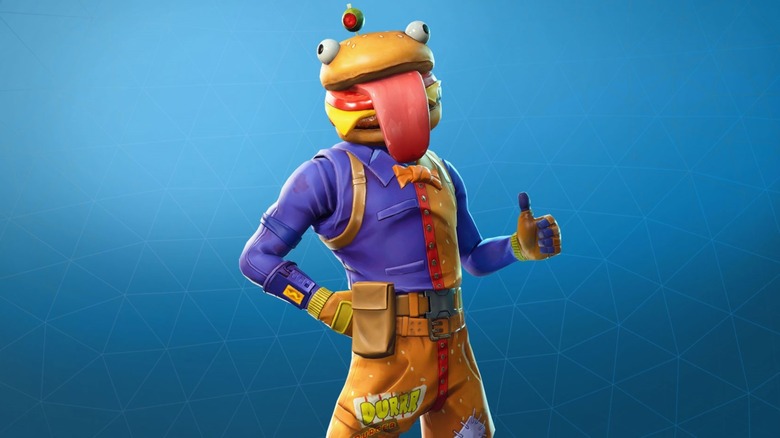 Epic Games
Indications of a crossover between "Fortnite" and MrBeast Burger, a food-delivery-app-exclusive restaurant chain founded by the YouTuber, stem from the 2022 Fortnite Championship Series Invitational. One attendee spotted an exhibit that features a model resembling a remixed version of the iconic Durrr Burger from "Fortnite" (via Twitter). The exhibit's title reads: "MrBeast Burger x Fortnite."
Interestingly enough, the giant burger model features a charm loop at the top, suggesting that it may be an early look at one of the crossover's cosmetic items. The addition of the loop also indicates that it may not be a Back Bling or a consumable item, but a new weapon charm cosmetic. While this type of cosmetic doesn't exist in the game right now, references to such a concept have been located in the game's files by dataminers, so it's possible (via PCGamesN).
While an official announcement isn't here yet, the exhibit's presence suggests that the crossover isn't too far off. "Fortnite" is currently winding down from its horror-themed Chapter 3: Season 4, and the next season is expected to commence in just a couple of weeks. The start of a fresh season would be the perfect time to introduce some fresh collaborations, including MrBeast Burger and that rumored "Doctor Who" and "Fortnite" crossover. 
As for whether MrBeast Burger itself will feature any "Fortnite"-related promotions, it'd be great to be able to order a Beast Style burger with a side of V-Bucks. We're not holding our breath though.