Doctor Who May Finally Be Coming To Fortnite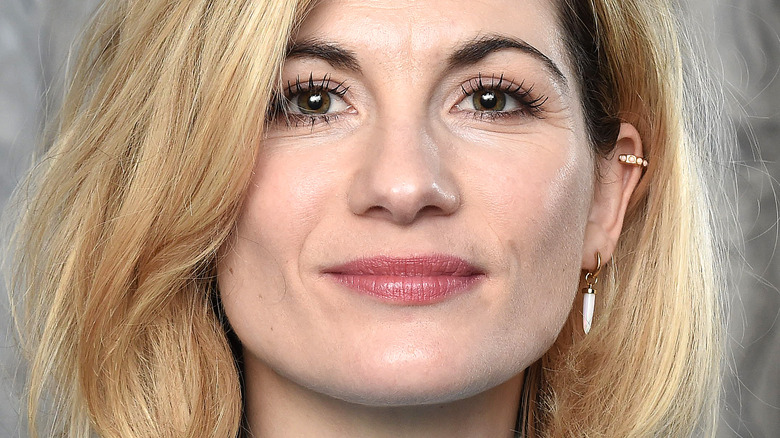 Gary Gershoff/Getty Images
Because of its status as an icon of modern pop culture that has largely transcended the world of video games at this point, it isn't uncommon for the battle royale title "Fortnite" to be used in high-profile collaborations. Be it characters from massive sci-fi properties such as "Star Wars" or cameos from A-list stars such as Brie Larson, "Fortnite" has introduced tons of skins based around popular IPs or celebrities outside of its contained universe. And soon, it seems that Epic Games' title will once again play host to another huge crossover, this time with the long-running British serial "Doctor Who."
Debuting on the BBC in 1963, "Doctor Who" follows a benevolent alien humanoid time-traveler (or "Time Lord") known simply as The Doctor who travels across time to help save the world. The Doctor is known for being portrayed by various different British actors throughout the character's existence. After the show's original run came to an end in 1989, it was revived by the BBC in 2005 and has continued ever since. After capturing the imaginations of a whole new generation with its most recent run, the show has long been connected to a possible collaboration with "Fortnite" due to the two IPs' massive influence. And according to a recent leak, fans of both properties may be getting their wish.
A leak suggests Doctor Who will soon be featured in Fortnite
Epic Games
According to reputable "Fortnite" leaker @FNBRIntel on Twitter, a "Doctor Who" and "Fortnite" crossover is currently in development. According to the leaker, the crossover is still in its early stages of development and is at least a few months away from its official release. This leak was later corroborated by popular "Fortnite" figure and Epic Games partner Shiina, who claimed they had seen proof of the crossover's existence. It is currently unknown what versions of The Doctor will be featured as skins in the "Fortnite" collab or what kind of modifications will be made to the game's map in celebration of such a huge moment.
As of right now, Rwandan-Scottish actor Ncuti Gatwa is slated to portray The Doctor in their fourteenth incarnation and will make television history as the first Black actor to portray the iconic titular character. With the show moving through one of its transitional periods, it's natural that hype regarding "Doctor Who" is at a fever pitch, making this collaboration with "Fortnite" timely.