Warzone 2.0 Hit An Incredible Milestone In Its First Week
Activision
"Call of Duty: Warzone 2.0" only just went public, and it's already shaping up to be one of the biggest hits of 2022. It was anyone's guess how the sequel to "Call of Duty: Warzone" would perform out of the gate. While Activision offered a bizarre reason for "Call of Duty: Vanguard's" flop in 2021, it seemed to many that it was simply a case of momentum finally slowing down for the annual shooter series. However, 2022's "Call of Duty: Modern Warfare 2" proved that there was still a massive audience waiting to dive into the new installments, crossing over $1 billion in sales in its first 10 days and setting a new sales record for the franchise (via Forbes).
As it turns out, "Call of Duty: Warzone 2.0" still has the momentum the original title had in 2020 — and then some. According to a statistic officially released by the "Call of Duty" team themselves, the new free-to-play battle royale title has already made it to a mind-boggling milestone of success before even spending a week on the market.
Warzone 2.0 has a massive player count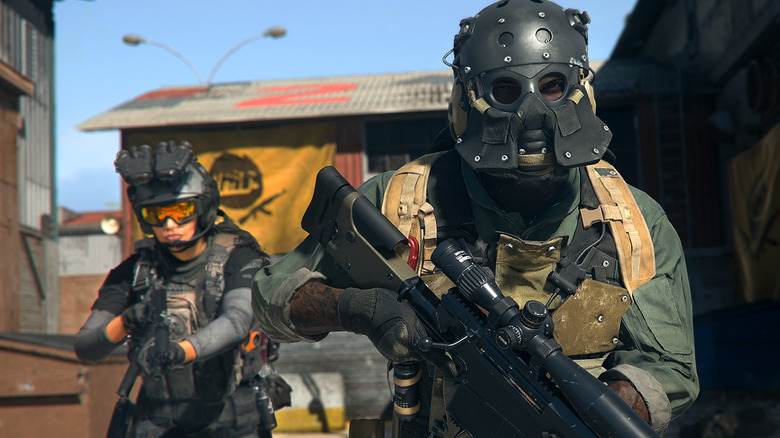 Activision
Five days after the free-to-play title went live, the official "Call of Duty" Twitter account tweeted out a graphic with a "Thank You" message. The graphic claims that "Call of Duty: Warzone 2.0" amassed a count of over 25 million players within those first five days on the market — quite the achievement, especially in a market saturated with battle royale titles like "Fortnite" and "Apex Legends."
Quickly garnering a large overall player base isn't the only major achievement that "Call of Duty: Warzone 2.0" has managed either. Per SteamDB, the release of the new battle royale game has skyrocketed "Call of Duty: Modern Warfare 2" to its all-time high concurrent player count on Steam. On November 20, the game reached over 490,000 concurrent players on that platform alone.
It remains to be seen if and by how much "Call of Duty: Warzone 2.0" outperforms the launch of the original title. "Call of Duty: Warzone" managed 30 million players in 10 days, so the sequel is on track to beat out its predecessor. Of course, as a free-to-play title, the true success of "Call of Duty: Warzone 2.0" rests on its continued popularity with players. There are certainly some issues afflicting the community that need to be ironed out, such as a frustrating invisibility glitch. Still, it's impressive that the title has managed to build such a strong foundation of popularity, and its success with players bodes well for its future.