Adin Ross' Swatting Situation Is Getting Even Scarier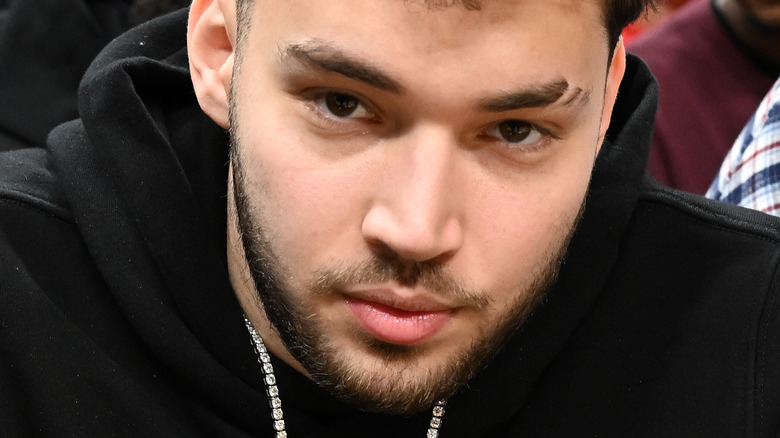 Paras Griffin/Getty Images
Weeks after his previous swatting incident, Twitch and YouTube streamer Adin Ross was once again targeted by another swatting attack. And the situation is becoming even scarier than it was before.
In the early hours of the morning on November 30, Ross posted a video to his Twitter page showing a large contingency of police cars gathering at the base of his high-rise apartment. Ross was understandably upset by the situation, launching into a profanity-laden tirade. "This is what you guys do, bro. This is what you wanted, bro," Ross said at the beginning of the video while filming the police vehicles approaching his building. "Seriously, bro. F*** you guys, bro [for] putting me and my friends' lives at f***ing risk and danger, bro."
The popular "NBA 2K" streamer was previously swatted on November 7 while he was streaming. Ross experienced another swatting in August, also during a livestream. With such a high number of swatting incidents in his recent history, it's obvious that Ross is being targeted by someone. And judging by the responses to Ross' latest swatting incidents, it seems apparent that Ross isn't being targeted by just one individual, but a whole group of people.
Adin Ross is being targeted by a group called Monkey Mafia
On November 25, the Adin Live YouTube channel uploaded a video that showed Ross confronting one of the people suspected of swatting him previously via Discord. When Ross abruptly asked why the person swatted him, the user — under the name "Epic #MonkeyMafia" – told Adin that the swatting incident was apparently in response to Ross not responding to his private messages on Discord. "Epic" also said that he had swatted Ross simply because he found it funny to do so. "You were scared for life [and] thought you were gonna die, that s*** is funny as f***," Epic said. The user also requested Ross send him $10,000.
According to comments left in response to Adin's video from November 30, the people responsible for the recent swatting attacks on Ross are a group collectively known as "Monkey Mafia" — the name of the hashtag in Epic's Discord name. Screenshots show members of Monkey Mafia conversing on Telegram and laughing at the angry video published to Ross' Twitter page. Other screenshots show members of this group using slurs and implying that YouTube Kai Cenat will be the next to be targeted.