Disney Speedstorm Just Got Hit With A Major Delay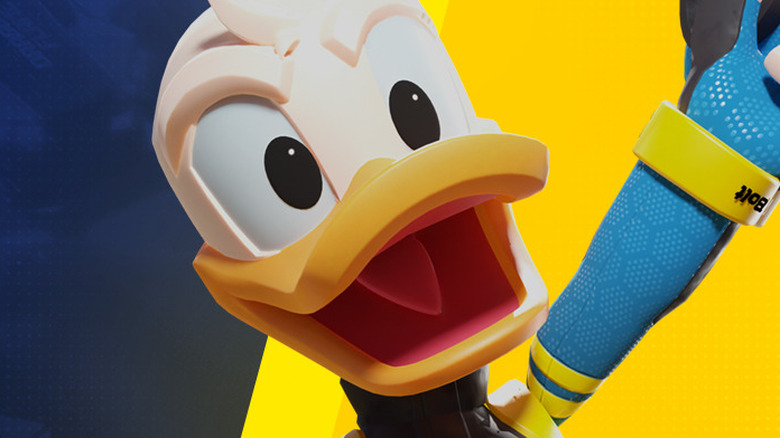 Gameloft
At this point, it sometimes feels like every entertainment conglomerate has tried to adapt its IP into a kart racer. The success of the "Mario Kart" series showed the world just how successful taking this formula could be. As a result, other companies have attempted to put their beloved characters behind the wheel. "Sonic & Sega All-Stars Racing," "Nickelodeon Kart Racers," and "Crash Team Racing" are just a few notable examples. In February of this year, Disney announced it was making a kart-style racing game to compete with the rest. This new entry, "Disney Speedstorm," will launch as a free-to-play live service title for consoles and PC.
"Disney Speedstorm" promises to put classic Disney and Pixar characters such as Mike Wazowski, Jack Sparrow, and (of course) Mickey Mouse behind the wheel. But much to the dismay of Disney fans, it turns out gamers will need to wait even longer to play the upcoming kart racer, as a newly-announced delay has pushed the kart racing fun even farther away. Here's what the developer had to say about the game's latest setback.
Disney Speedstorm delayed until 2023
On November 30, the "Disney Speedstorm" developer team at Gameloft announced through a blog post that the racer would be delayed until 2023. Gameloft wrote that the delay was to ensure that the game meets the developer's expectations at launch and to "provide players with a more immersive racing experience, customization offerings, game modes and more. "
In addition, Gameloft stated that it wants "fans to not only be entertained, but to enjoy a fast-paced and competitive racing experience they will return to play for years to come." This focus on retaining players is understandable, as there are multiple examples of solid games dying shortly after releasing due to a lack of content. Some major games have lost their playerbase within a matter of months with similar missteps, and it seems developer Gameloft is making moves to prevent such an outcome.
Despite the delay, Gameloft says it "plans to keep fans up to speed on our progress with regular updates on these features as we head toward launch. " On the official website, players can still sign up for updates and potentially receive invites to any beta testing in the future.