Why Death Stranding Fans Are Looking Forward To The Game Awards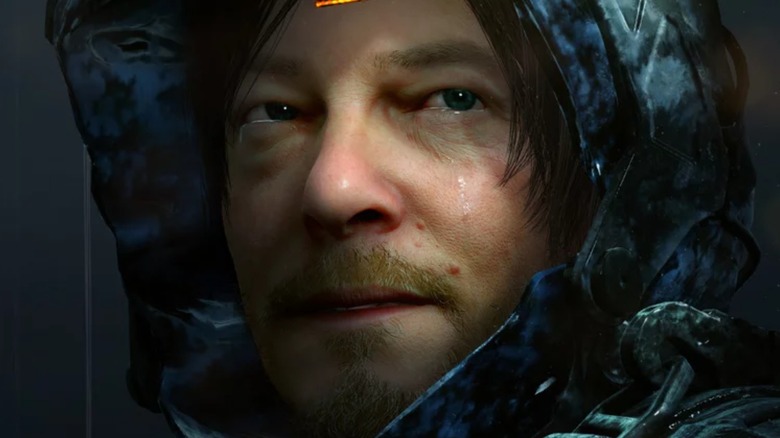 Sony Interactive Entertainment
A mysterious Dec. 1 tweet from Hideo Kojima has fans guessing he may soon announce a sequel to "Death Stranding." The tweet features three strange symbols, one of them appearing to be the umbrella used by Léa Seydoux's character in the first game, Fragile. Along with the images is a message from Kojima: "Start a new journey." 
With the Dec. 8 The Game Awards only a week away, it seems more than likely that any possible announcement would happen then. This speculation is all-but-confirmed thanks to a reply to Kojima's tweet from the official "The Game Awards" Twitter account. In the reply, the official account merely shared a red emergency light emoji, suggesting big news is indeed on the way. 
It's not exactly a surprise that "Death Stranding" will be getting a sequel. During a May 17 interview with Leo Edit, Norman Reedus, who famously portrayed the original game's protagonist, Sam Porter Bridges, claimed the team had "just started the second one."
Furthermore, despite a smattering of negative reviews from critics and fans lambasting the slow pace of "Death Stranding," it was actually quite a success. Critics and users both rated the game favorably (per Metacritic). The game's sales numbers were impressive as well. On Nov. 8, Kojima took to Twitter to celebrate the game broaching a whopping 10 million copies sold.
The only way fans can know for sure whether an announcement for "Death Stranding 2" is coming is by tuning into The Game Awards on Dec. 8 at 7:30 PM ET / 4:30 PM PT.