How Not Growing Up As A Gamer Affected Anya Taylor-Joy's Princess Peach Role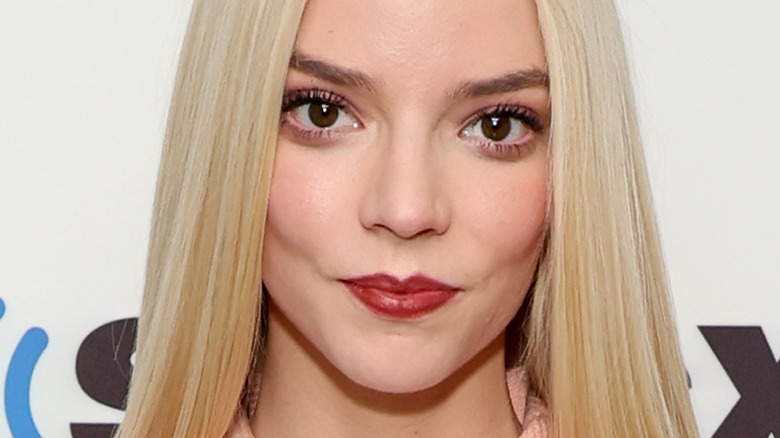 Cindy Ord/Getty Images
The latest trailer for the upcoming "Super Mario Bros." movie is out and it has fans erupting in applause for Princess Peach. This enthusiasm speaks both to the writing of the character as well as the performance of Anya Taylor-Joy, who brings the character to life. While the star of "Queen's Gambit" and "Witch" is already an accomplished actress, playing Princess Peach was actually her first real exposure to video games and gaming culture.
Speaking to Modern Luxury San Diego, Taylor-Joy explained that she wasn't really into video games before landing the role of Peach. She reiterated this when speaking to MTV News, saying that she didn't play games as a kid, only having discovered the joy of the hobby recently. Never having been a part of the culture or community before, Taylor-Joy found it to be a pleasant surprise when she learned how passionate gamers could be. "The fandom is wild. I don't think I've ever had friends be more excited for anything I have ever done," she told MTV News.
This excitement seems to have rubbed off on her, however, as Taylor-Joy has since embraced gaming. She says she now loves going to arcades with friends, telling Modern Luxury San Diego that she enjoys the communal experience of the activity. It seems that this newfound love for gaming is something she is bringing to her role as the Princess of the Mushroom Kingdom. She even claims she'd like to do promotional events in a full Princess Peach cosplay outfit.
Taylor-Joy is known for throwing herself into roles
Manny Carabel/Getty Images
This isn't the first time Taylor-Joy has taken a role involving a subject she has little experience with. Recently, she has been working on the film "Mad Max: Furiosa," playing the titular character in the driving-heavy action movie even though she doesn't have a license herself. She still threw herself into the role and developed a love for stunt driving, saying she'd like to do more in the future.
As an actress, Taylor-Joy clearly loves to devote herself completely to her role, learning new things and developing new personal interests. Fans can rest assured that she's translating her newfound love for video games into a stellar performance as Princess Peach. This is just one more reason for fans to be looking forward to the movie's release next year. While waiting, they should keep an eye out for Taylor-Joy donning Peach's signature dress at upcoming events.