God Of War Star's Speech Has Everyone Saying The Same Thing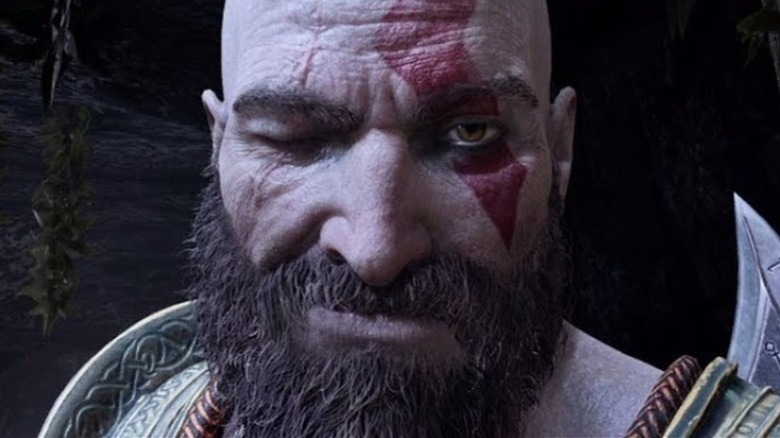 Sony Interactive Entertainment
The Game Awards' 2022 ceremony was filled with plenty of exciting moments, especially for "God of War Ragnarok" fans. The game won several awards, including Best Narrative, Best Score and Music, and Best Audio Design, just to name a few. Christopher Judge, the voice of Kratos, also won Best Performance for his voice acting and motion capture work in the game. Excluding the pre-show, Judge was the first person to accept an award, and it stood out from the others — because Judge spent quite a bit of time on the stage. And everyone noticed.
Advertisement
Judge's speech was nearly eight minutes long, and it included both production stories and shoutouts to those who have helped him and inspired him on his journey. This wasn't the first time that he'd been nominated for an award for his role as Kratos, of course. In fact, he was nominated at The Game Awards 2018 for the previous "God of War" game, but this win was clearly a special moment for the actor.
The crowd was clued in that Judge's speech was running too long after six-and-a-half minutes, when music started playing as Judge was talking. What started as quiet background music got progressively louder, even as Judge offered a heartfelt tribute and words of encouragement to Sunny Suljic, the voice actor for Kratos' son Atreus. Oh, and also Al Pacino was just standing there the whole time. It was a weird night, basically. Thankfully for viewers, the speech — while lengthy and joked about for the rest of the night — was admittedly touching.
Advertisement
Christopher Judge's emotional speech
Christopher Judge's acceptance speech started out with some heartfelt thanks to his family, including his mother, brother, and children. After that, he spoke about Santa Monica Studios, the developer behind "God of War Ragnarok." Judge went through the various people at the studio, taking plenty of time (and pauses) to thank the individuals he worked with on bringing Kratos to life.
Advertisement
Judge also explained that those who hired him weren't initially sure that he'd take on the role of Kratos, and he joked that he might not have been interested if he'd realized that the job was for a video game. He then went on to thank Eric Williams, the director of "God of War: Ragnarok," and told the story of how he found out that Williams would be directing the game. Judge said that he'd actually quit after he found out that previous director Cory Barlog wouldn't be returning for "Ragnarok," but he was soon convinced of Williams' passion and talent. 
As Judge discussed the ways in which he and Williams grew up very differently, he seemed to realize that his speech might be going on too long. At this point, he looked offstage and joked that he hoped speeches didn't have to fit into a certain timeframe. After recalling a touching moment when Judge broke down on set and sobbed while Williams held him, he continued to thank the rest of the team until the fateful moment in which he was all but forced off the stage.
Advertisement
The internet loved Judge's impassioned speech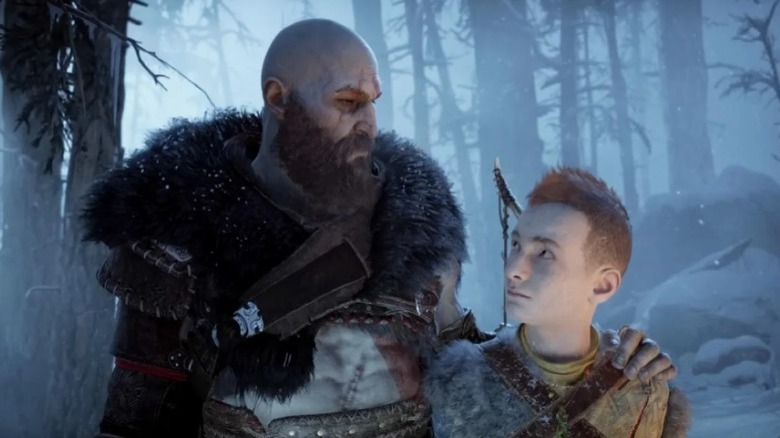 Sony Interactive Entertainment
The length of Christopher Judge's speech almost immediately spawned plenty of memes online. Many jokes were made about how the extra-long acceptance speech gave viewers more time to win a Steam Deck, as one was being given out every minute to a viewer from Steam's stream of the show. One of the viewers in the audience shared that the teleprompters apparently read "Please wrap it up" for four minutes before Judge finally concluded. Clearly, the God of War was undeterred by these measures.
Advertisement
Even Geoff Keighley, the host of the show, joked about the length of Judge's acceptance speech by saying that he'd have to talk quicker to make up time. Online, people were recalling that Keighley said this year's The Game Awards would be the shortest one yet, joking that Judge took that as a personal challenge. One fan tried to rename the show, calling it "The Christopher Judge Awards (featuring some games)," while others quipped that more than half the show was made up of this speech. Many fans were simply defending Judge from everyone trying to get him off the stage, with some calling it his "moment" that should be savored.
Several people also referenced his outstanding golden outfit, which seemed to challenge the recent online debate over wardrobe choices at The Game Awards. All in all, Christopher Judge kicked the show off with a bang, just like Kratos would have wanted. 
Advertisement