Everyone Is Saying The Same Thing About Al Pacino At The Game Awards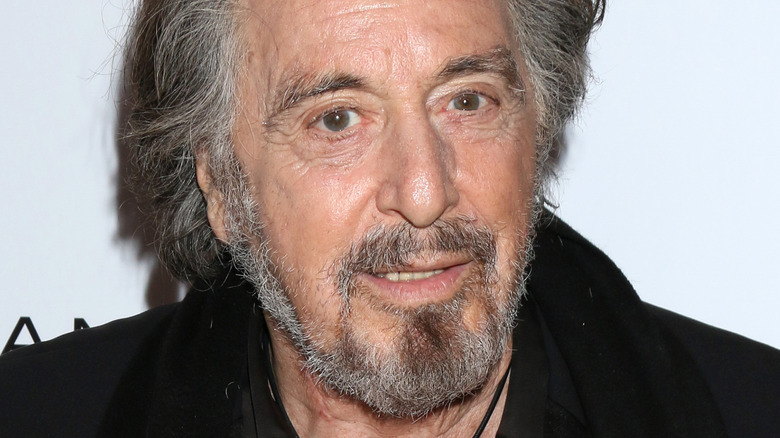 Kathy Hutchins/Shutterstock
The 2022 Game Awards ceremony started off with a bang as a surprising face stepped out on stage to give the first award of the show: Hollywood legend Al Pacino.
"The Godfather" and "The Irishman" star awarded Christopher Judge the Best Performance Award for his work as Kratos in "God of War Ragnarok." Before reading the name of the winner, Pacino had the crowd rolling with laughter from the moment he stepped on stage and started cracking jokes. First, he mentioned that he was unable to see the teleprompter very well, which led to some awkward pauses in his preamble. Then he explained that he doesn't really play video games, but his children have, and he's always been amazed at how strong the storytelling in games can be. He even joked about the weight of the Game Awards trophy, using it as a dumbbell and lifting it in the air as the crowd went wild.
After handing the mic to Christopher Judge for his extra-long speech, Pacino stood on the sidelines and gave the actor a big hug before finally walking off-stage with him almost ten minutes later. While his appearance was memorable, it was clear to everyone watching that Pacino was a bit out of his element. However, the internet loved it, leading to plenty of chatter and memes about the appearance.
Memes, silent screaming, and Dunkaccino references
Many of the memes were centered around Al Pacino waiting for Christopher Judge's speech to end. Between sharing pictures of various deer-caught-in-headlights looks from various characters and celebrities and the hilarious interpretation that Pacino was "silently screaming," the jokes felt neverending. Some fans pointed out that, at 82 years old, Al Pacino was probably getting way too tired to keep standing up there on stage.
There were also plenty of memes about Al Pacino seeming out of place, with at least one meme pointing out that Pacino and actor Michael Madsen must have felt some common ground being at this event. 
Al Pacino and Michael Madsen seeing each other backstage at #TheGameAwards pic.twitter.com/pTFGcPt4BT

— Andrew Clark (@AndrewLeeClark) December 9, 2022
There were also plenty of jokes about the fake "Dunkaccino" commercial starring Pacino, which originally appeared in the movie "Jack and Jill," and how it must have taken a lot of inner strength to keep people from shouting the jingle out in the middle of his award announcement.
While Al Pacino's appearances was unexpected, some argued that it was the best opening The Game Awards has ever had. Geoff Keighley will have to step up the game next year to beat out the excitement surrounding this year's special presenters. Considering Daniel Craig, Valkyrae, Fuslie, Halsey, and Hozier all made appearances this year (among many other celebs), that might be pretty tough to do.