Adin Ross Clears The Air On His Cancelled Kanye West Stream
Paras Griffin/Getty Images
It seems like that major Adin Ross and Kanye West crossover stream won't be happening after all. Adin Ross, a Twitch streamer with over 7 million followers on the platform, has gained popularity in recent years for his frequent collaboration streams with celebrities, including many notable rappers. The content creator has streamed with Lil Yachty, Lil Pump, and BlueFace, among other influential names. While these crossover streams aren't anything new for the internet personality, he was seemingly set to feature what would have arguably been his most popular guest star yet: Kanye West.
Based on footage of West's colleague Nick Fuentes, shared on Twitter by user @Kurrco on December 3, it seemed the duo was scheduled for a livestream with Ross the following week. Prior to his ban from Twitch, Hasan Piker even volunteered to moderate the discussion between Ross and West. However, the livestream between the parties didn't materialize, and it seemed unclear for a brief period whether it would end up happening at all. Now, Ross has finally cleared the air regarding the stream and has explained his reasoning for its cancellation.
West is no-go for Ross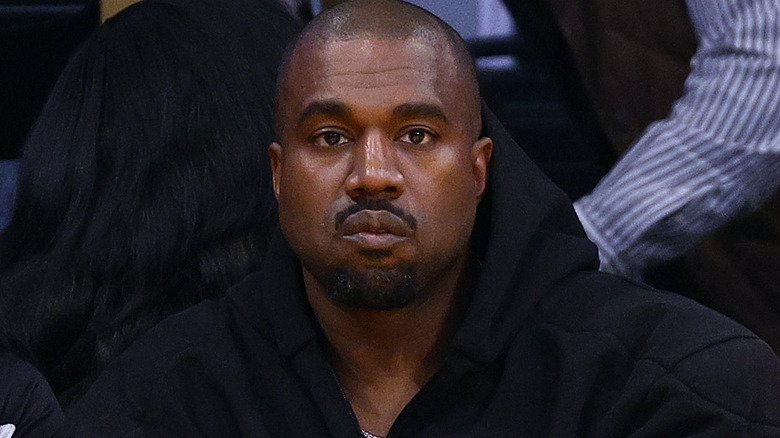 Ronald Martinez/Getty Images
During a Twitch livestream, Adin Ross spoke about the cancellation of his upcoming stream with Kanye West. "I can't have my platform be used to spread hate," Ross said. "I can't have my platform be used to basically insult people and hurt people and hurt everyone, so I decided not to go through with the stream."
Ross' decision comes in the wake of an exceptionally controversial couple of months for West. In recent months, the musician claimed that George Floyd, the Black man killed by police officer Derek Chauvin in 2020, died from drug abuse (via The Guardian). Additionally, the rapper has made antisemitic remarks on social media and in interviews. He has also claimed in several interviews, including a notable appearance on Alex Jones' "InfoWars," to be a fan of Adolf Hitler and a Nazi sympathizer (via The Washington Post).
Ross has streamed with other controversial figures in the past, including conservative internet personality Andrew Tate and streamer IShowSpeed, who was banned from "Valorant" for verbally harassing another player. Ross was also temporarily banned from Twitch in April for violating the platform's hateful conduct policy, which some suggested was for his ostensible use of a homophobic slur on a peer's livestream. Despite these past controversies, it seems that West's activity crossed a line for the personality. "Yes, I know it would be my biggest stream ever," Ross continued on his livestream. "But, sometimes, it's not worth it."