xQc Lost Some Serious Cash During The World Cup Final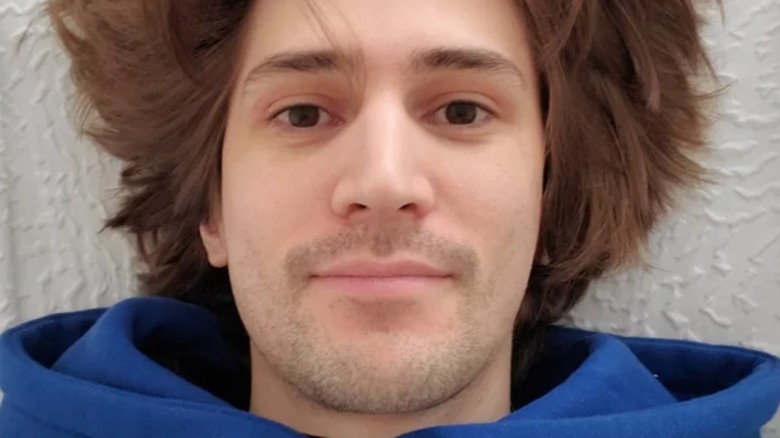 Amy Sussman/Getty
Twitch users and streamers have been embroiled in debates over the surging popularity of gambling streams on the platform for quite some time, and xQc is one content creator who has been right in the center of it. It may not come as a huge surprise to some that the streamer lost big on a bet placed during the resent World Cup Final. 
xQc been extremely honest about his gambling addiction in the past, explaining to his viewers that it's just part of his nature to enjoy risking money in high stakes events — even though he hates losing money as a result of it. During a stream with Pokimane earlier this year, he revealed he'd lost nearly 2 million dollars in a single month due to his fondness for online gambling games.
These kinds of revelations – and the continued prominence of gambling on the platform – have led major streamers to call for changes to the platform's policies, particularly after numerous fans found themselves scammed by gambling-focused streamers. In an effort to cut back on the toxic side of gambling streams, Twitch has made several changes to its gambling policies in recent months, including banning a number of gambling sites from the platform and forbidding streamers from partaking in slot or roulette games while broadcasting.
xQc has kept on gambling on and off-stream, however, as many of the games of chance and events he enjoys are not currently forbidden by Twitch. That includes any bets placed on the World Cup Finals. Fans may remember that xQc accidentally risked a ban when he streamed World Cup footage a few weeks ago, but on his off-camera time, he has stayed glued to the ongoing football competition. That investment came to a head over the weekend, when xQc revealed a bet on the Final that cost him dearly.
Despite his confidence in France, xQc took a hit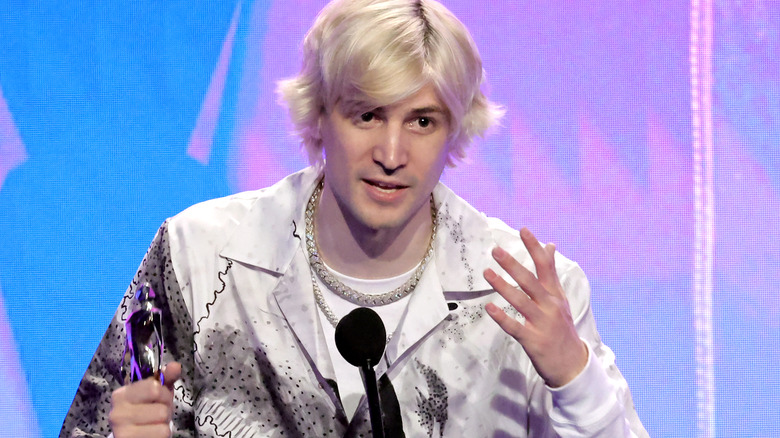 Amy Sussman/Getty Images
The streamer told his fans on Twitter about the risky gamble, posting a screenshot of the bet along with the caption, "I've been saying France is gonna win it all since the first game. Putting my money where my mouth is. Easiest win of my life. My man's PayPal is about to snap on these noobs." 
I'VE BEEN SAYING FRANCE IS GONNA WIN IT ALL SINCE THE FIRST GAME. PUTTING MONEY WHERE MY MOUTH IS. EASIEST WIN OF MY LIFE. MY MANS MPAYPAL IS ABOUT TO SNAP ON THESE NOOBS. EZ. EZ. EZ. EZ. EZ. pic.twitter.com/Q021qEBThZ

— xQc (@xQc) December 18, 2022
With a bet of $500,000, xQc stood to earn an estimated $1,425,000 if France took home the win. As sports fans far and wide now know, however, that did not come to pass, and Argentina came out on top after a long and tense game. xQc ultimately decided to cash out a bit early when the tide began to turn against France, but it was way too late to save the majority of his investment.
The streamer was roundly roasted in the replies to his screenshot on Twitter, with some commenters noting how disastrous this loss was from a financial standpoint and others posting memes expressing their disbelief at the massive bet. Fellow streamer Hasan Piker, who has been one of the most vocal opponents of gambling on Twitch, retweeted xQc's screenshot and quipped, "don't gamble kids."
Later in the day, xQc tweeted that he had lost more than fans initially expected him to. The streamer posted a blurry black-and-white photo of himself looking despondent, explaining that he had enjoyed the game overall, but that he had definitely taken a financial hit following the World Cup. All in all, the streamer explained, he was down roughly $650,000 as a result of these bets. 
xQc's day kept just getting worse
xQc took a good bit of ribbing after posting his loss to Twitter, but unfortunately for the streamer, he ended up receiving another kick while he was down. 
As xQc revealed to his fans, things went from bad to worse for him over the course of the day. Later in the evening, he tweeted a selfie after taking a COVID test. He remarked, "Everything that could of gone wrong, went wrong today. Even after I went offline. Until I got up the stairs and just felt pain in my lungs and pretty much all over my body." He explained that the COVID test was negative, but that he was still feeling really under the weather, which prompted a number of well wishes and supportive memes from his followers. 
Hopefully the sickness and the World Cup loss won't keep xQc down for too long. It remains to be seen if the streamer will make such a hefty bet on a sporting event in the future, but fans will be sure to tune in and find out.