HEROish Review: Simple & Addicting
Sunblink
A Steam code was provided to SVG for this review. "HEROish" is available now for PC, PS5, Xbox Series X|S, Xbox One, and Apple Arcade, with a Nintendo Switch release planned for January 2, 2023.
Originally released as a highly-rated Apple Arcade title, "HEROish" has seemingly effortlessly made the jump to PC and consoles with its recent surprise launch. Available now on PS5, Xbox Series X|S, PC via Steam, and releasing on Nintendo Switch in January 2023, "HEROish" is a simple, yet engaging and wildly addicting card-battling MOBA-lite. And luckily for fans of the genre, it's quick and easy to pick up and hard to put down. 
Advertisement
The multi-platform release brings with it everything from the Apple Arcade version, as well as 18 new cards (along with dozens of reworked ones) and a new "Brutal" campaign difficulty. "HEROish" offers an inviting combination of story campaigns, multiplayer matches, and animated cinematics. Flynn, Lavinia, Spiderbait, and the other playable heroes and villains are all brought to life with vibrant colors and the sort of whimsical animation that you'd expect from "Hearthstone." Players will be swept away by the enchanting orchestral soundtrack as they venture through three story campaigns.
Once the campaigns are completed — which doesn't take much time at all — 1v1 and 2v2 multiplayer matches provide intense competition that will keep players coming back for more.
Advertisement
Intuitive combat lets you focus on strategy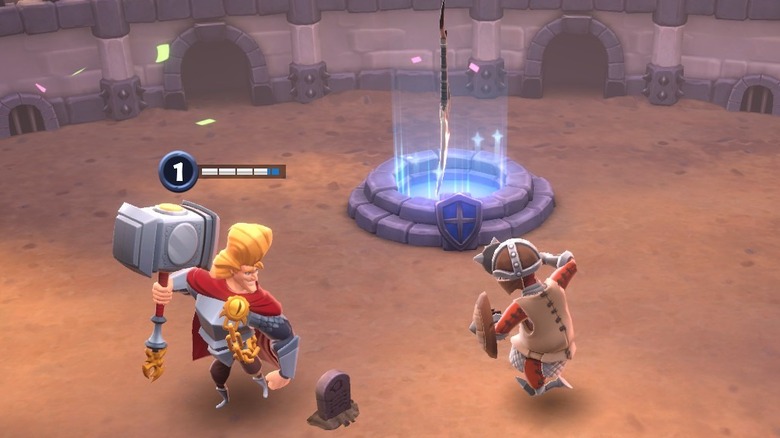 Sunblink
Making the move from mobile to console and PC may seem like a simple feat, but it's easy for things to go wrong, especially when it comes to user interfaces. Fortunately, "HEROish" handles transitioning to larger screens incredibly well, providing a smooth experience with intuitive controls that don't interfere with the gameplay itself.
Advertisement
Your character moves along each arena's path as you look to defeat enemies, take control of their towers (while defending your own), or accomplish an array of other challenges. When in close proximity, characters and enemies automatically attack one another, allowing you to spend a bit of your time strategizing how you want to use your special abilities.
Combat controls are easy to perform with simple number commands that allow you to play your special attack and power-up cards on the fly,  whether you're using a ranged attack, healing your party, or adding additional units to help your offensive attack. You can also click on them using the mouse, which feels like the more effective method. Cards regenerate over time and you're only able to use them when you have enough mana (which also regenerates over time). Knowing when to use your cards is key, as they can often turn the tide of battle in your favor. There is, however, something to be said about throwing caution to the wind and spamming your special abilities in the hopes that you make it out alive.
Advertisement
Major points for approachability into the MOBA genre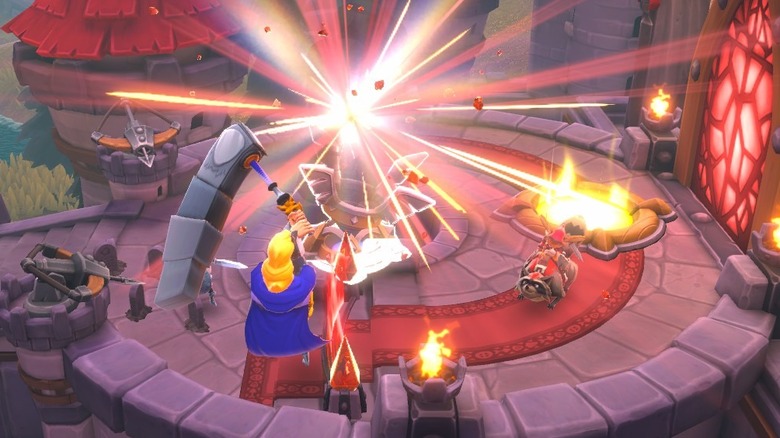 Sunblink
Despite the campaign mode's relatively short runtime, it gives you everything you need to prepare for online multiplayer battles. "HEROish" features PvP crossplay between PC and consoles. It's pretty typical with these types of games to have matchmaking issues, especially at launch. "HEROish," somehow, manages to sidestep this problem with a well-implemented matchmaking system that finds you opponents quickly and fairly. You're paired with another player close to your character's level (which goes up to level 40), and are thrown right into the fray.
Advertisement
The progression system is simple enough for anyone to figure out and worthwhile enough that it rewards you for playing regularly. It's easy to get bogged down by overly complicated progression systems, or find them to be too great of a grind. "HEROish" is neither, and it's refreshing to see one that compliments the rest of the game so well. The game doesn't take itself too seriously, which certainly adds to its charm, but also just makes it more accessible in a genre that is often fueled by highly competitive players and/or pay-to-win microtransactions.
A successful port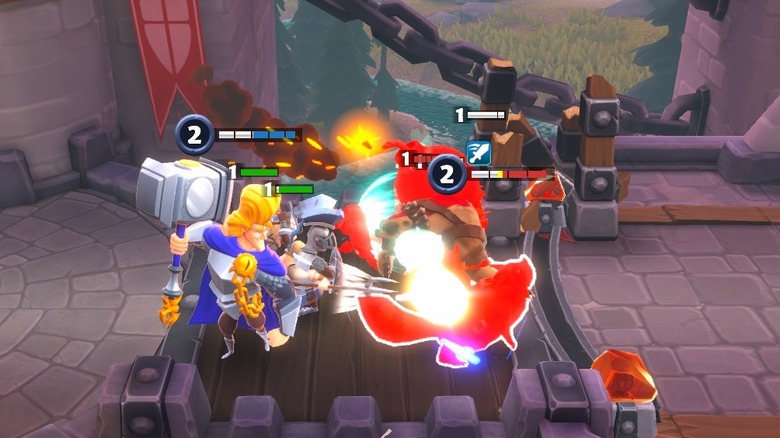 Sunblink
All in all, "HEROish" is an enticing card game/MOBA hybrid that offers both a fun, goofy experience and surprisingly intense online battles. It's great for a quick online bout when you have a few minutes to spare. The characters, mechanics, and overall premise aren't anything to write home about, and almost everything about the game is simple, but that's the point.
Advertisement
For a game ported from mobile, the gameplay and presentation are top-notch. "HEROish" provides a wonderful balance between strategy and accessibility that should keep players engaged for hours of fun. If you're looking for something to fill the gap between "Hearthstone" and full-fledged MOBAs like "Dota 2," then this is exactly the kind of dialed-back game you should be checking out. "HEROish" is an engaging card-battling MOBA-lite title that's perfect for both newcomers and veterans alike.