Marvel Snap: How To Get The Samuel L. Jackson Autographed Card
When it comes to Marvel properties, few characters are as important as Nick Fury who is portrayed in the "MCU" films by Samuel L. Jackson. And if you play "Marvel Snap," Fury will be receiving a special limited-time card that can be obtained pretty easily. For a limited time, "Marvel Snap" is hosting its "Winterverse" seasonal event (per Marvel Snap Zone). In line with the Holiday Season, "Winterverse" is gifting its player base some special items they can use to bolster their card collections and even provide them with some free goodies. Among these free rewards includes a Nick Fury variant card that is "signed" by Samuel L. Jackson himself.
Of course, the value of Samuel L. Jackson "signing" a virtual card that can be obtained exclusively in a video game could be the subject of some debate. However, at the very least, it's a cool variant of a card representative of one of the more popular "Marvel" cards out there. And best of all, it's completely free of charge for players.
The only question is: What must the player do in order to obtain the card? Luckily for any gamers who want the free offering, the Samuel L. Jackson-autographed Nick Fury card is rather easy to obtain. 
The Nick Fury card can be earned by signing into Marvel Snap on Christmas Day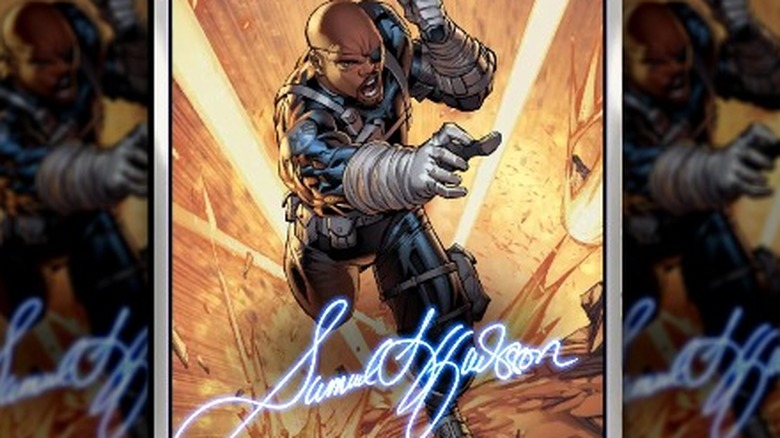 Nuverse
The Samuel L. Jackson-autographed Nick Fury card can be earned by simply playing "Marvel Snap" (per Marvel Snap). More specifically, the card can be obtained simply by signing into the game. If you want the card, be sure to sign into "Marvel Snap" at any time during Christmas Day, December 25. This is in line with other "Winterverse" rewards that can be earned through daily log-ins. The "Winterverse" event in "Marvel Snap" runs from December 20 through January 3. For each of those days, a new log-in reward will be available for players to collect.
According to Paul Tassi of Forbes, the total amount of rewards that players can earn during the "Winterverse" event include 1000x units, 5000x Gold, 90x boosters (30 can only be used for Angela), and a "Black Panther" profile picture variant. There are also five variant cards that are exclusive to "Winterverse." These variants can only be obtained by opening a Collector's Reserve. The variants included represent characters Abomination, Rogue, Ebony Maw, Rockslide, and Patriot.