Adin Ross Gets Candid On What Really Destroyed His Stream With Kanye West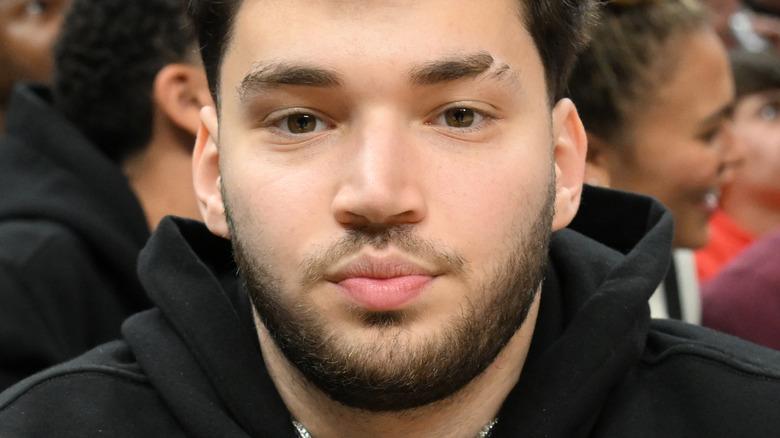 Paras Griffin/Getty Images
Twitch streamer Adin Ross is no stranger to inviting controversial figures onto his channel. The 22-year-old has played host to some polarizing figures in the past, having featured Andrew Tate and IShowSpeed in the past. In early December, Ross reportedly planned to interview hip-hop artist Kanye West. However, the stream with Kanye would ultimately be cancelled prior to its airing.
Of course, the stream was cancelled after Kanye West made several anti-Semitic comments on social media and television. Ross — who is of Jewish lineage — would later tell his viewers that he did not wish to see his platform on Twitch being used to spread hate. To this point, Ross has refused to go into specific details on how the stream with Kanye ultimately fell through, prompting some viewers to accuse the streamer of falling in line with Twitch's conduct policies in order to avoid a possible ban — something Ross has dealt with on multiple occasions.
However, Ross recently opened up in a candid interview and revealed that the cancellation of his stream with Kanye had nothing to do with internal pressure from Twitch. Instead, he reiterated that his own conscience wouldn't allow him to go through with it, especially in light of some of the troubling comments West had made.
Ross cancelled his Kanye interview after an uncomfortable phone call
In an interview with DJ Akademiks, Ross explained that he and Kanye West had a lengthy conversation over the phone one day, during which they mostly talked about miscellaneous things such as the Bible and music. Ross later would suggest to Kanye that he join him on his Twitch stream, believing that the get-together would do very well from a viewer standpoint. However, after a series of alarming comments from Kanye, Ross later cancelled the stream.
"He called me up and he basically just said like... 'You Jews aren't gonna tell me what I can and can't say,'" Ross told Akademiks. He continued, "He said, 'I don't want you to be my enemy,' and then yeah, that was it." According to Ross, he and Kanye haven't spoken since this conversation.
Ross adamantly denied that Twitch had anything to do with cancelling the stream, confirming that Kanye's anti-Semitism was to blame for the anticipated stream never taking place. "People think I got silenced from Twitch, people say that I got silenced from the higher-ups. No, [that conversation] was the reason why," Ross clarified.