The Gran Turismo Movie Is Actually Real, And Based On A True Story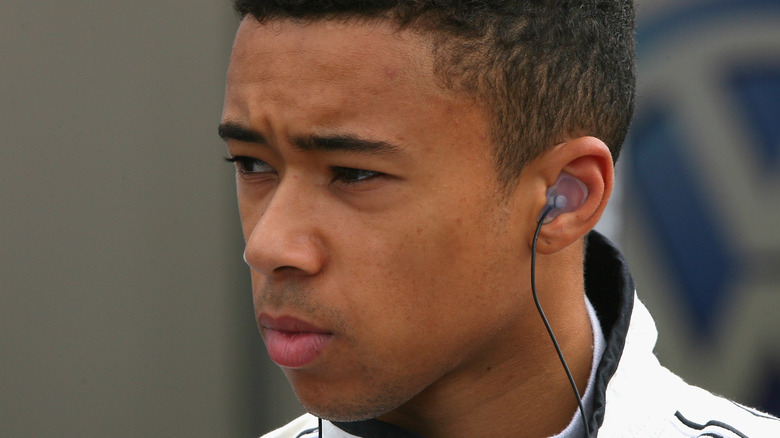 Darrell Ingham/Getty Images
PlayStation Productions first released "Uncharted," an adaptation of the eponymous game franchise, and the studio seems to be ramping things up even more in 2023 and beyond. PlayStation fans have known about other projects in the works for years, like Peacock's "Twisted Metal," Netflix's "Horizon," and the recently-confirmed "God of War" series on Amazon Prime. Details on these future projects are sparse — we don't even know who will play Kratos in the "God of War" live action adaptation yet. But after years of rumors, a trailer was finally released for the "Gran Turismo" adaptation on January 5, 2023.
Set to release in theaters on August 11, 2023, a few big names are attached to the project. Notably, it will be directed by Neill Blomkamp, who is more traditionally associated with sci-fi movies like "District 9" and "Elysium." He's the second director to take on the project, after a previous attempt to adapt the games into a movie went under. "Pirates of the Caribbean" actor Orlando Bloom and David Harbour of "Stranger Things" also play named characters, and Archie Madekwe of "See" and "Midsommar" plays the main protagonist.
"Gran Turismo" was the highest-selling game on the PlayStation 1, and the series has been a mainstay of the PlayStation lineup in every console generation since. It's one of the most popular series of all time, but the movie adaptation is taking a bit of a unique approach to bringing the game to life. The "Gran Turismo" movie will not be based on an in-game character or narrative arc, but on a true story. 
Jann Mardenborough got his start in the Gran Turismo academy in 2011
A video game adaptation based on a true story might sound ridiculous, and if we were talking about the "Super Mario Bros." movie or "God of War" series that would be the case. But adapting the story of Jann Mardenborough for the "Gran Turismo" movie actually makes perfect sense narratively. Mardenborough, after all, started his real-life racing career by playing "Gran Turismo."
Back in the late 2000's and early 2010's, Nissan and Sony Interactive Entertainment ran a kind of contest where "Gran Turismo" players could apply, compete, and eventually win and be given the opportunity to become a professional racer. The program ran for seven years — though it was intended as a one-time marketing competition — and Mardenborough was one of many finalists who went on to have successful racing careers. He had never competed in any kind of professional racing before winning the competition, but year after year he continued to build his profile in GT, formula, and other styles of racing. 
In 2015, tragedy struck at Germany's Nurburgring Raceway as his car flipped, careened through trackside fencing, and landed on its roof in a spectator area. Though Mardenborough wasn't seriously hurt, according to a BBC report on the crash, several onlookers were injured, and one "succumbed to their injuries" and died later. However, this happened long after Mardenborough "graduated" from the GT Academy, and it's not known which aspects of his transition from gamer to racer the "Gran Turismo" movie may focus on.