The Rarest Pickaxe In Fortnite
True to its name, a pickaxe is a weapon worth choosing in "Fortnite." Choosing a rare pickaxe to flaunt sends a clear message to other gamers on the battlefield, as it indicates a certain elite level of expertise in the game. Of course, players are given a default pickaxe to start both "Fortnite" Battle Royale and Save the World mode, but the real appeal is the ability to go beyond the basic and score a stellar pickaxe skin. Technically a weapon, the pickaxe is primarily used for harvesting, but the right skin can make even mundane supplies collecting feel fierce.
When SVG reported on the rarest "Fortnite" pickaxe in 2019, the answer at the time was the lucha libre-inspired Piledriver. This pickaxe is still quite the rare choice, as it hasn't appeared in the shop since 2018, according to Dot Esports. That being said, there is one weapon choice that's even more elite than an axe absent from the shop for nearly five years. Without further adieu, here are the details on the rarest pickaxe in "Fortnite."
FNCS Axe of Champions is Fortnite's rarest pickaxe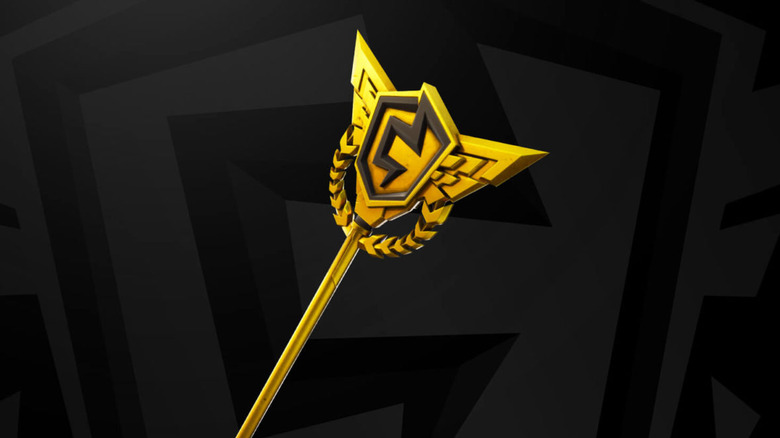 Epic Games
According to both Dot Esports and Rarest.org, the rarest of all pickaxes in "Fortnite" is the Axe of Champions from the "Fortnite" Championship Series. Not only is this pickaxe available exclusively to those who win the "Fortnite" Championship Series – it's limited to active champions only. That means even players who have emerged victorious in the FNCS have to part ways with the prized pickaxe as soon as somebody else takes the crown.
Wielding the FNCS Axe of Champions is absolutely a power move. It shows other players a lot about one's competitive success – that is, if opponents get the chance to peep the pickaxe before they're more than likely quickly eliminated.
On top of its sheer intimidation value, the Axe of Champions boasts an equally authoritative design. Featuring the FNCS logo in place of where the axe blade would usually be, the epicly rare pickaxe makes the design shimmer in all gold. The handle matches the shade in striking simplicity, letting the logo draw all the attention. Though getting the FNCS Axe of Champions is reserved for only the most elite "Fortnite" players, other fans of the game can now keep an eye out in battle in case they spot this incredibly limited skin. Once they do, they'll know to run the other way.