PlayStation Just Had A Major Game Leak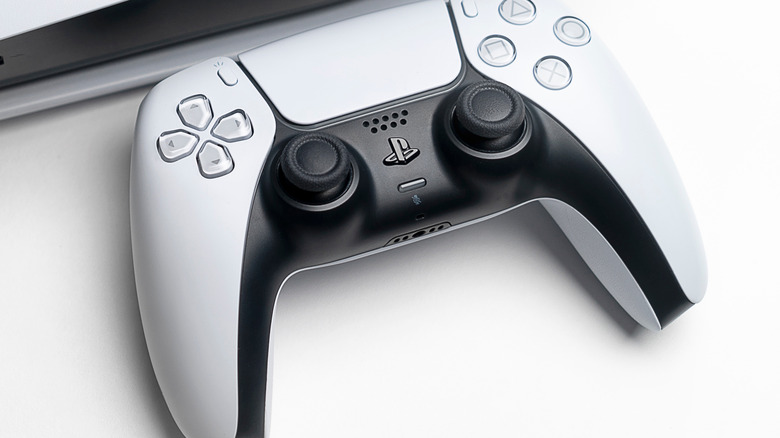 mkfilm/Shutterstock
It seems that some intriguing details for a brand-new PlayStation IP have leaked online. While Sony is known for its stable of legacy IP, such as the "God of War" series and the "Ratchet & Clank" series, the juggernaut video game company hasn't been afraid to put its weight behind the development of new exclusive titles. Square Enix's "Forspoken" and Housemarque's "Returnal" on PS5 are just a couple of the recent games that have made their bold console debut exclusively on Sony's platform. Now, another intriguing title for the brand appears to be on the horizon.
A small supply of information on an unannounced game for Sony, including an actual sample of gameplay footage, has leaked online. Details on the project suggest that it will mark the start of a new third-person shooter IP. With a surplus of imaginative and unsettling sci-fi imagery, it seems the title is set to be pretty out there, too. Here's everything that has come out about the mysterious project so far.
Ooze is seemingly on its way
On January 7, several seconds worth of footage for an untitled, unannounced sci-fi shooter video game leaked online (via Reddit). The now-archived video displayed what appears to be pre-alpha gameplay, in which a player character points a gun at a massive eldritch creature in the distance. From the looks of it, the title appears to be a brand-new intellectual property being developed for Sony's PlayStation consoles.
Alleged industry insider Dusk Golem took to ResetEra to discuss the project, noting that it is the very same game they teased on Twitter back in October. The leaker claims to have seen a build of the game, nicknamed by them as "Ooze," that is much further along in development than the version shown in the leaked footage. "I just am looking forward to it eventually getting announced on my side and the devs properly showing it off," Dusk Golem wrote in a thread.
There aren't many other details to go off of regarding the "Ooze" project, though fans combing through the footage have developed several theories as to the nature of the game. Some ResetEra users found elements that suggest the development studio behind the title might be People Can Fly, the Polish team responsible for titles like the critically-praised "Outriders." Beyond that, it's unknown when or even if the game will be released, as it hasn't been announced in any official capacity.