The Metaverse Has Developers Split On Its Ability To Deliver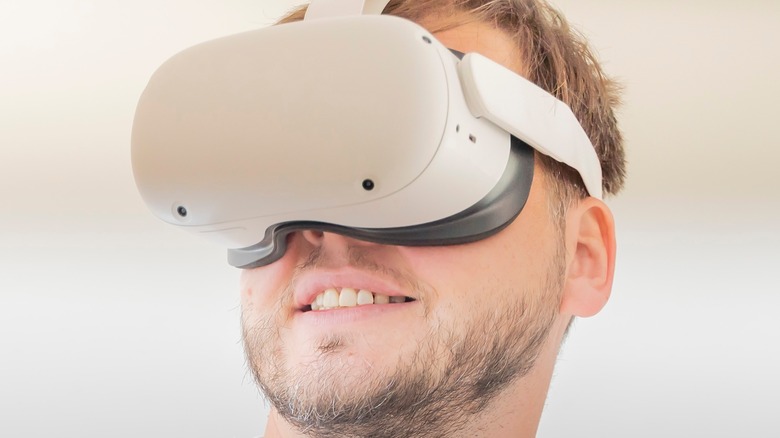 Denis---S/Shutterstock
The idea of inhabiting an avatar in virtual reality and exploring a fully realized immersive 3D world is exciting. In the past, various forms of science fiction have explored this concept extensively, with "Ready Player One" being one of the most notable examples. In one of these fictional virtual worlds,  the Metaverse, players have everything they need at their fingertips, from social media and entertainment to education.
But this concept is making its way to real life may not be too far off, as a few corporations are desperately trying to make the concept a reality. For example, Meta's "Horizon Worlds" is an ongoing project that promises to bring the Metaverse to life. But not everyone is convinced it will take off.
For one, VR technology is still in its infancy and relatively expensive. In addition, those that have experienced "Horizon Worlds" have criticized its graphics, as it looks less like "Ready Player One" and more like "Roblox." But audiences aren't the only ones skeptical about a Metaverse. A recent study indicates that game developers are split on whether a company can provide a sustainable experience.
Almost half of game developers aren't confident a company can pull off a metaverse
Recently, ahead of the 2023 Game Developers Conference, the GDF polled 2300 game industry professionals with its State of the Game Industry survey. When asked about the possibility of a company delivering on its promises of a Metaverse, developers were split, with 45% believing it was impossible. Support is dwindling, too, as last year only 33% percent of developers felt the promised Metaverse was impossible.
Those skeptical about a sustainable Metaverse cited "the unclear definition of the concept, the lack of substantial interactivity and the high cost of hardware (VR headsets in particular)" as major factors hindering the success of a Metaverse. And they may not be wrong. When "Horizon Worlds" launched in December 2021 and failed to attract players (per The Wall Street Journal), it demonstrated that building a Metaverse was no easy task.
The question of which company has the greatest chance of delivering a sustainable Metaverse was also a point of contention. The company with the highest votes was Epic Games/"Fortnite," with 14%. This makes sense, as "Fortnite" is already a pseudo-Metaverse, minus the VR. "Fortnite" regularly hosts concerts, mini-games, and a clash of entertainment giants, all within one game.
The runners-up were Meta/"Horizon Worlds" and Microsoft/"Minecraft," receiving 7% of votes each. "Roblox" received the third highest with 5%.