Fortnite X Dead Space Strange Transmissions Quest Pack Explained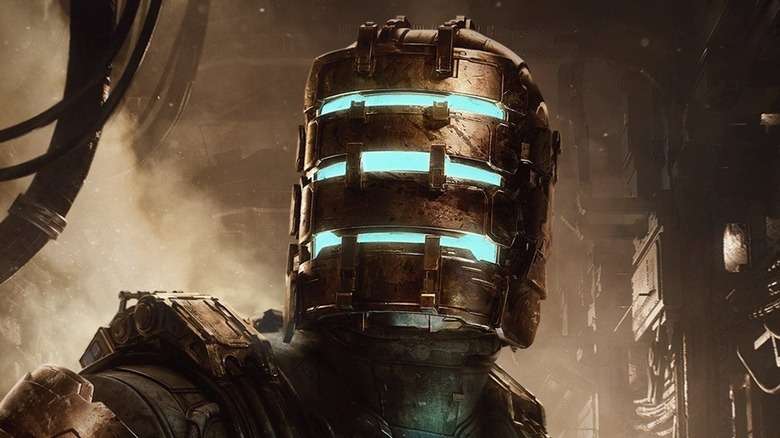 Electronic Arts
Another day, another "Fortnite" crossover appears. This time around, it's Isaac Clarke of "Dead Space" fame. With the release of the "Dead Space" remake right around the corner, it makes sense that Isaac would appear to hype audiences for his return. 
As is often the case with "Fortnite" skins, this "Dead Space" crossover can be purchased as part of a larger bundle that comes with plenty of extra cosmetics. One of the bundle options this time, dubbed the Strange Transmissions Quest Pack, comes with two different Back Blings, a Pickaxe, an emote, and, of course, the outfit itself. The health pack Back Bling and plasma cutter Pickaxe are noteworthy additions for true fans of Isaac's horrifying adventures. While this crossover definitely will appeal to said fans, those that simply enjoy collecting "Fortnite" skins will also be pleased to know that the Strange Transmissions Quest Pack not only offers these detailed cosmetics but a few in-game quests. 
Players can earn 1500 V-Bucks via the Strange Transmissions Quest Pack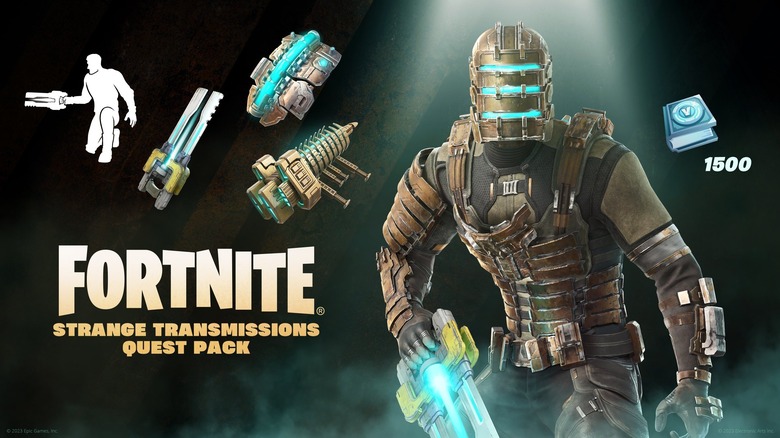 Epic Games Inc.
Within a "Fortnite" battle pass, one can earn enough V-Bucks by completing all 100 levels to purchase the next season's battle pass. Or, of course, those extra pieces of digital currency can nab players a cheaper skin or emote from the "Fortnite" store. Similarly, Isaac Clarke's Strange Transmissions Quest Pack is nearly the same price as the V-Buck reward it offers players the chance to earn back. Completing the pack's quests will net players 1500 V-Bucks to use on or save up for additional "Fortnite" cosmetics in the future. 
Of course, these V-Bucks require a bit of work to obtain. While one might think that the quests require some "Dead Space" specific questing, this isn't the case. As reported by Pro Game Guides, it's simply a matter of playing plenty of Fortnite and completing Daily Bonus Goals. The 1500 V-Bucks are divided into chunks that players earn once they've finished a specific step. Step One, for example, requires players to complete three Daily Bonus Goals for a payout of 100 V-Bucks. Step Two needs players to complete five Daily Bonus Goals for 200 V-Bucks, and so on until Step Five and its reward of 500 V-Bucks.
While Daily Bonus Goals aren't typically difficult to accomplish, there are only three available to complete each day. This means then that players will have to complete a whopping 39 Daily Bonus Goals to acquire all 1500 V-Bucks from the Strange Transmissions Quest Pack. That's a lot of "Fortnite," but at least those working on it will have a detailed Isaac Clarke skin to admire while they play!