Disney Lorcana: The First Chapter Release Date And Starter Decks - What We Know So Far
"Disney Lorcana" is a new trading card game from Ravensburger. Ravensburger previously dabbled with the Disney IP with the biggest commercially made puzzle on the market, "Memorable Disney Moments." But now, creating a tabletop card game may be its biggest challenge. "Lorcana" immerses players in the world of Disney by featuring some of the most famous Disney characters, from Moana to The Little Mermaid.
Players are considered Illumineers, and according to the website, players will "wield six magical inks to summon glimmers of Disney characters." However, apart from the brief product description, there is little known about the rules. The description does indicate that not all the characters featured in the game will be how Disney fans remember them. Instead, some characters will be reimagined, like Rockstar Stitch featured in the teaser trailer. Of course, much of the game still remains a mystery.
What is known, however, is the game's release date and starting packs. Here's everything we know about "Lorcana," the upcoming tabletop card game from Disney.
What is the release date for Lorcana?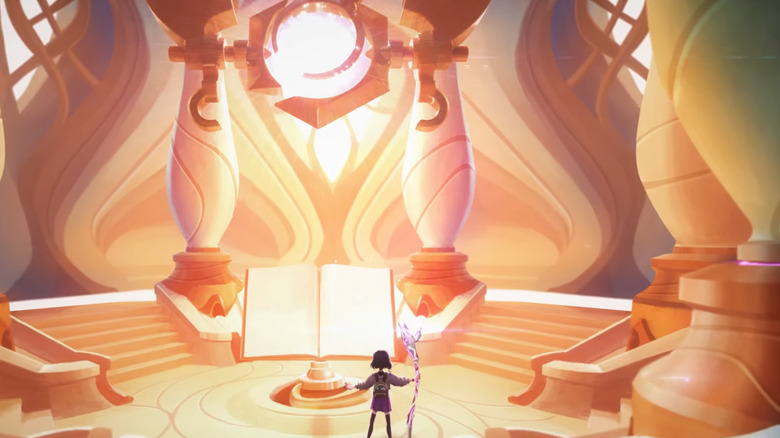 Ravensburger
Disney's "Lorcana" is making its way to the tabletop sooner than some may think. "Lorcana" officially launches on August 18 in the United States, Canada, the United Kingdom, France, Germany, Switzerland, Austria, Belgium, The Netherlands, and Luxembourg. According to IGN, with the launch comes "Disney Lorcana: The First Chapter," the first official set of cards, which players can pick up in English, French, and or German. Co-designer Ryan Miller told IGN that only local game stores would have stock upon the release date, with big named retailers following suit on September 1.
However, IGN noted that there is a way to get ahold of these cards early. During Gen Con 2023 on August 3-6, fans can get ahold of select products early. And this first set is expected to be the beginning of a long road ahead. Disney "Lorcana" co-designer Ryan Miller told IGN, "We also want to show that we are serious and that we are here to stay." And with that, developers have plans to release four card sets a year for the foreseeable future.
What starter decks and booster packs will Lorcana feature?
At launch, "Lorcana" players will have 200 cards to unpack — and there will be multiple ways to grab these cards. The cheapest and quickest way to get into "Lorcana" is with a starter deck. These decks have all the cards needed to play a match of "Lorcana." Each includes sixty cards, two of which are foil, eleven game tokens, a rulebook, and a booster pack of twelve random cards. The starter decks available at launch are Amber and Amethyst (featuring Moana and Mickey), Emerald and Ruby (featuring Cruella and Aladdin), and Sapphire and Steel (featuring Cinderella and Simba). Players that don't get a specific card they wanted from the twelve random cards don't fret, as there are ways to expand a "Lorcana" collection.
Players can purchase individual booster packs, which contain twelve random cards. These packs are guaranteed to have six commons, three uncommon, two rare, super rare, or legendary cards, and one foil. Players can further jumpstart their collection with the Mulan – Imperial Solider and Hades – King of Olympus duo gift set that includes two oversized foil cards, two playable foil cards, thirty-four game tokens, and four booster packs with twelve additional cards each. Finally, the big daddy product is the Illumineer's Trove, which includes one storage box, two deck boxes, eight booster packs, fifteen game tokens, and one player's guide.