Fans Think PlayStation's New PS5 Ad Teases More Uncharted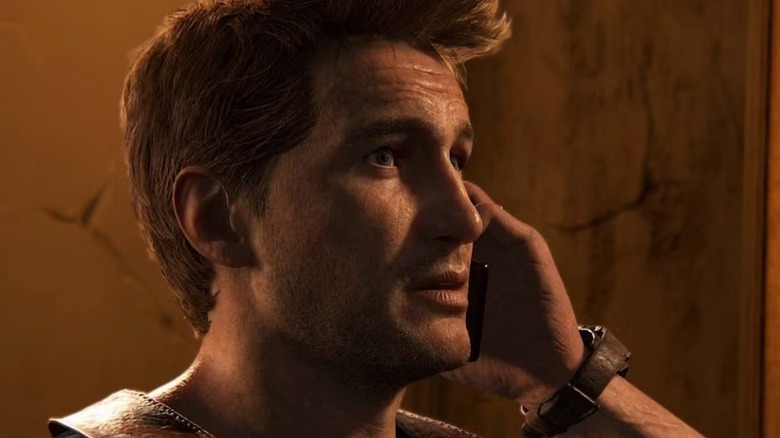 Sony Interactive Entertainment
A new ad for the PlayStation 5 has some fans thinking a new "Uncharted" might be in the cards for the console.
It's been a hot minute since Sony's last mainline entry in its premiere treasure-hunting adventure game series. 2016's "Uncharted 4: A Thief's End" capped off Nathan Drake's adventures in a thrilling spectacle, but years have gone by without any full-fledged follow-up. Since then, the only major additional titles in the series have been a standalone DLC expansion for "Uncharted 4" in 2017, titled "Uncharted: The Lost Legacy," and 2022's "Uncharted: Legacy of Thieves Collection," which remastered both "Uncharted 4" and its expansion.
Aside from these smaller projects and the live-action "Uncharted" movie with Tom Holland, the franchise has mostly laid dormant for several years now. As such, fans have been wondering if the series may actually be finished for good when it comes to brand-new games. However, their hopes of receiving yet another big mainline installment have been stoked once again, this time by way of a new ad for the PS5 that may just be teasing such a project.
Is the Live from PS5 ad teasing a new Uncharted game?
On January 30, PlayStation released a new promotional ad for the PS5 titled "Live from PS5." The ad takes the form of a live-action faux news broadcast, as reporters cover the events of various major games for the console like "God of War Ragnarok" and "Final Fantasy 16." Most curiously, however, the ad features several blink-and-you'll-miss-it shots of an unknown woman exploring a cave with a torch before discovering some sort of ancient artifact.
Considering that these shots don't line up with any major PS5 game that has been released, some fans are wondering if these segments may be teasing something new for "Uncharted." "Looks Uncharted-like to me but with a female protagonist," u/Nosworc82 commented. Some, like u/NicParvisMagna, took the idea a step further, theorizing that the woman may be an older version of Cassie, Nathan Drake's daughter from the ending of "Uncharted 4," who has followed in her family's footsteps.
Of course, there's no confirmation that this footage is about "Uncharted," or if it truly is a tease towards "Uncharted 5" or a similar new project. Days prior to the ad, it was revealed that the franchise's main developer Naughty Dog is finally finished with the "Uncharted" series, so the revelation that such a title is in development would be unexpected. However, even if another studio is in charge, it seems fans still have a small reason to hold out hope for another "Uncharted" game.