Sons Of The Forest Early Access: What You Should Know Before Wishlisting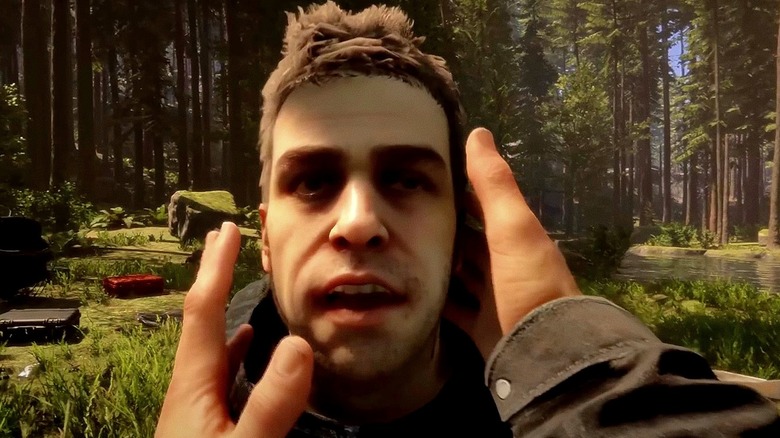 Endnight Games
"Sons of the Forest," the sequel to 2014 indie hit "The Forest," has been a long time coming. After a few disappointing delays, "Sons of the Forest" is finally expected to arrive on February 23. And fans can't wait to get ahold of everything the game offers. This sequel promises to bring the same first-person survival gameplay and surreal horror that made the first game a success. Players, alone or with friends, will need to fight cannibals, stave off hunger, build structures, and unravel the forest's mysteries to survive. And of course, "Sons of the Forest" is also expected to bring new elements to set it apart from the first game.
Gamers hope to see how "Sons of the Forest" will upgrade the wilderness survival experience by adding new wrinkles to cooking, combat, and wildlife interactivity, as much of the game's development has been shrouded in secrecy. And the latest reveal — that the game will be launching as an Early Access title, rather than a full game — has some players wondering which of the aforementioned features will be fully fleshed out at launch. Here is everything gamers should know before wishlisting "Sons of the Forest" on Steam.
It will launch as an Early Access title
Developer Endnight Games Ltd recently announced on Steam that "Sons of the Forest" will not be launching on February 23 as a complete game, as was originally planned. Instead, the game will launch as an Early Access game on the same date. This announcement was met with a mixed response from the community. Some gamers were happy that the game was not being delayed again, while others felt it was just an excuse to ship an unfinished game without backlash.
The developer explained that "Sons of the Forest" has "grown into the biggest, most complex game we have ever made." Endnight Games stated that the team did not want to delay the game once again and instead opted to release the game in Early Access. The post added that in the months following the release, the team wants to continue to add "items, new mechanics, gameplay balance and more." The game is expected to remain in Early Access for 6-8 months, Endnight Games explained. So, what features will be available at launch?
The Early Access section of the Steam Page assures gamers that "Sons of the Forest" will have multiplayer at launch, supporting up to 8 players. Like the first game, this title will have an unsettling story for players to uncover as they explore caves and other environments. In its Early Access state, the game will consist of plenty of new content, including a "brand-new building system, crafting system, a new arsenal of weapons, dynamic weather and seasons," according to Endnight Games. 
While it may not be the full package that fans of "The Forest" have been patiently waiting for, there's a lot to be excited about when "Sons of the Forest" enters Early Access in February.