Rihanna's 2023 Super Bowl Halftime Show Has Gamers Turned On (But Not Like That)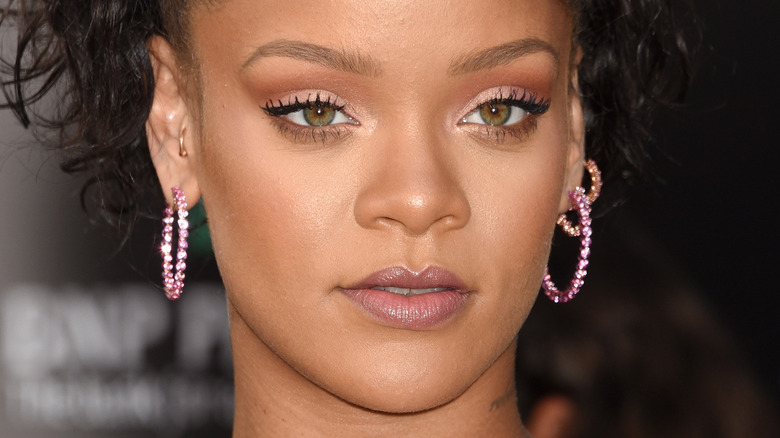 Ga Fullner/Shutterstock
As expected, Rihanna's halftime show during 2023's Super Bowl was an exciting affair, filled with awesome costumes, high-energy choreography, and more hit songs than you can shake a Grammy at. The result was a show that had even ESPN calling her the true MVP of the big game. All eyes were on the "Only Girl in the World" singer as she took to a hovering platform and performed a medley of a dozen tracks from throughout her catalogue. The show not only served to floor the attendees at the big game and remind longtime fans why she's one of the best in the biz, but it was also at this show that Rihanna decided to reveal to the world that she's expecting her second child. But Rihanna brought more than a killer set of pipes and a healthy dose of showmanship to the field. As it turns out, the set for her stage show also reminded video game fans of a few classic titles.
The ball got rolling with graphic designer and art director Rob Sheridan, who compared the stage design to something out of a "Super Smash Bros." game:
Respect to Rhianna for performing in a Super Smash Bros stage pic.twitter.com/oXrHsFue0t

— Rob Sheridan (@rob_sheridan) February 13, 2023
Fans of the Nintendo brawler franchise wholeheartedly agreed with this comparison, with many noting how much the halftime show stage resembled the Big Battlefield arena from "Super Smash Bros. Ultimate." Some viewers quipped that they'd have personally chosen a different "Smash Bros." stage to perform a concert on, while others began calling for Rihanna to be added as a playable DLC character in future "Smash Bros." games. Gamers know a good bit when they see one, and the jokes just kept coming well after the halftime show had come to a close.
Gamers reimagine Rihanna's Super Bowl halftime show in Super Smash Bros.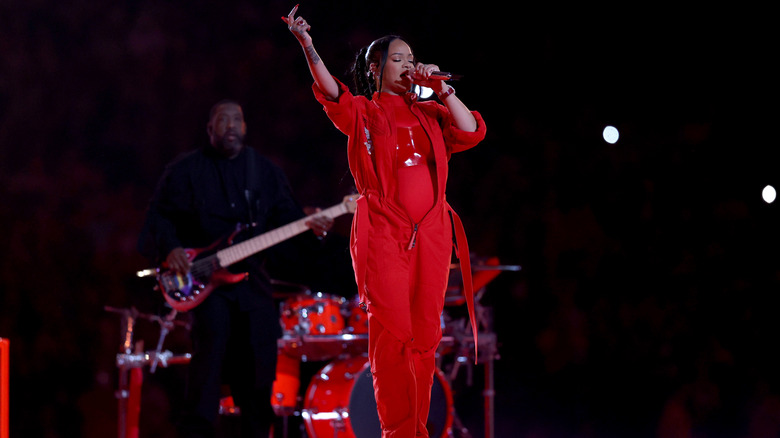 Gregory Shamus/Getty Images
Of course, not everyone was content to just talk about the similarities between the halftime show and their favorite games. Some video game fans went the extra mile and created images of their own to celebrate the weirdness of Rihanna's Super Bowl stage. For instance, podcaster Patrick Monahan photoshopped members of the "Super Smash Bros." roster into the halftime show, bringing the bit full circle. If you've ever wanted to see Rihanna throw down with the likes of Bowser and Captain Falcon, you are in luck. One can only wonder what kinds of powers Kirby would gain from absorbing Rihanna:
RIHANNA LOOK OUT pic.twitter.com/WU6gwLCa6y

— Patrick Monahan (@pattymo) February 13, 2023
Other fans actually went through the effort of mocking up videos of how Rihanna could be introduced in "Super Smash Bros. Ultimate," and they have to be seen to be believed. Many of these mashups used footage of the now-iconic moment when the camera zoomed out at the top of Rihanna's performance and revealed her baby bump. One clip recreated a classic "CHALLENGER APPROACHING" announcement from the game, only with a glamorous headshot of Rihanna in the featured spot and "Smash Bros." music playing over the beginning of her show:
Rihanna in Smash Bros !? #SuperBowl pic.twitter.com/ScfymMWuuK

— Monasterollo (@Monasterollo) February 13, 2023
While another actually went so far as to photoshop the Big Battleground arena into the background of the halftime show:
Rihanna in Smash pic.twitter.com/fCjT5k6jvr

— Murdoink (@Murdoink) February 13, 2023
In both cases, it looks like Rihanna is more than ready to take on any challenger who comes her way, with or without power-ups. As author Kyle Buchanan put it, "No items, Rihanna only, Final Destination."
Rihanna crosses over with other Mario games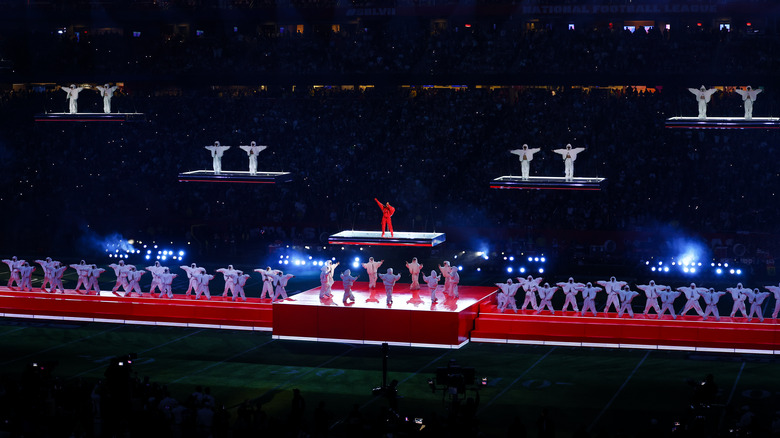 Kevin Sabitus/Getty Images
Believe it or not, though, "Super Smash Bros." was not the only video game to be pulled into the halftime show discourse this evening. Journalist and author Dave Itzkoff got in on the fun by pointing out another video game that the halftime show resembled: the original "Donkey Kong." By superimposing an image of Rihanna atop Donkey Kong's treacherous construction site (where she takes the place of Mario's original gal pal, Pauline), Itzkoff managed to provide one of the funniest Super Bowl halftime show reactions of the evening:
i knew it. pic.twitter.com/Ul3cIJKx6o

— Dave Itzkoff (@ditzkoff) February 13, 2023
For whatever reason, Mario was a common reference among video game fans watching Rihanna's performance. Illustrator Joshua Jones pointed out that the halftime show stage might actually be a better match for the platforms seen in the classic "Mario Bros." arcade game. It's not clear what would happen to Rihanna's team of backup dancers if good ol' Mario decided to hit that POW Block, though.
— Joshua Jones 🌹🐘 (@mindfad) February 13, 2023
Needless to say, this was probably not the reaction the "S&M" singer was planning to get from her audience, but the show clearly lit a fire inside the gamers tuning in. Who knows how this memeable moment might take on a whole new life of its own? Illumination and Nintendo, take note: Maybe it's not too late to put Rihanna in "The Super Mario Bros. Movie!"