MrBeast Drops Outrageous Ad That Didn't Make The Super Bowl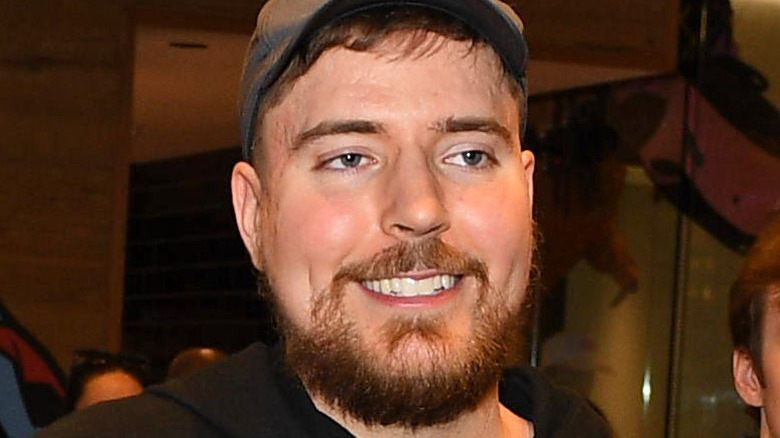 Dave Kotinsky/Getty Images
Always the entrepreneurial mind, popular content creator Jimmy "MrBeast" Donaldson has released yet another new product via an outrageous advertisement that his fans are sure to go wild for. But, unfortunately, the ad didn't run during the Super Bowl this past Sunday.
MrBeast made an appearance during one of the Big Game's advertisements, specifically in the one for NFL's "Run With It" program, which was designed to encourage women to participate in American football. The ad itself proved to be buzzworthy, collecting over 3.6 million views on YouTube due to MrBeast's fun cameo and hilarious performances from Mexican flag football star Diana Flores and NFL stars Cam Heyward, Sauce Gardner, Davante Adams, Jalen Ramsay, and others.
However, it seems that MrBeast originally had other plans for the Super Bowl advertisement rotation besides his NFL commercial cameo. As it turns out, the content creator — who has amassed over 100 million subscribers on YouTube — had his own hilarious advertisement planned for the big sporting event but elected not to submit it due to the enormous prices attached to such ads. However, that didn't stop him from later releasing the ad on social media.
Mr Beast's hilarious Deez Nuts ad
On Twitter, MrBeast shared what his original Super Bowl ad spot would've looked like. The ad is done in conjunction with the content creator's Feastables snack product line and is for the Deez Nuts chocolate bar. The commercial starts with MrBeast calling the bar the biggest thing he's ever created. In line with its iconic meme name, the ad features MrBeast and several of his frequent collaborators making tongue-in-cheek jokes about the product and its name. Deez Nuts itself is a milk chocolate bar with peanut butter filling. According to its official website, Deez Nuts is made with organic cocoa butter, grass-fed milk, chocolate liquor, and a few other ingredients.
According to the Twitter post by MrBeast, the content creator said that he chose not to air the commercial during the Super Bowl due to its ridiculous price. "I wanted to run this as a Super Bowl ad but 7 million dollars was a lot of [money] so you guys get it here," MrBeast said when tweeting the ad. The decision not to air the ad during the Super Bowl seems to have paid off, too, with the video collecting nearly 11 million views and over 175k likes on Twitter within the first 24 hours of its posting.
A pack of 10 Deez Nuts bars retails for $29.99, with options to bundle other flavors as well. The products can be purchased here.