Fans Totally Missed MrBeast In This Super Bowl Commercial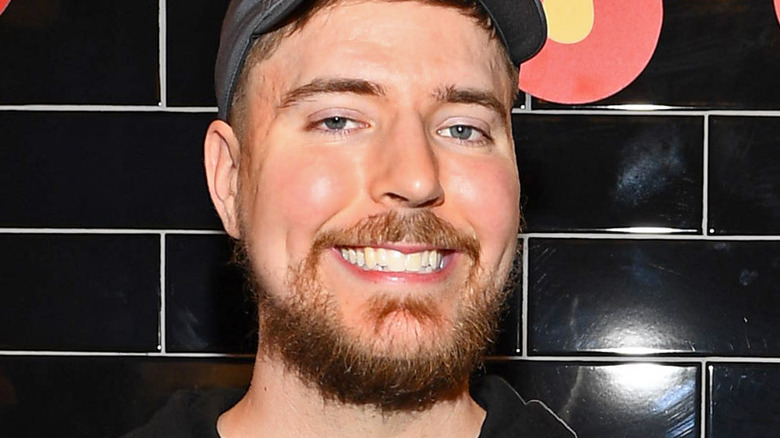 Dave Kotinsky/Getty Images
MrBeast made his big Super Bowl commercial debut, but even fans of the creator may have missed his appearance.
Lately, it's been difficult to predict just exactly where the giveaway-hosting YouTuber is going to pop up next across the pop culture landscape. Last year's highlights saw MrBeast reveal a hilarious secret collab with BTS, along with getting his own set of branded cosmetics in "Fortnite," so fans have come to expect the unexpected from the content creator. Nonetheless, it was still a surprise to many when he teased on Twitter that he would be appearing in a commercial during the 2023 Super Bowl, just hours before the game took place.
I'm in a Super Bowl commercial today 🥰

— MrBeast (@MrBeast) February 12, 2023
Indeed, one of the many commercials aired throughout the major sports event included an appearance from MrBeast himself. However, the big moment was essentially a blink-and-you'll-miss-it cameo that may have bypassed many viewers if they didn't know to look out for it. 
MrBeast can't believe he missed it
Viewers tuning into the Super Bowl may have noticed MrBeast's brief appearance in the NFL's "Run With It" commercial. The two-minute spot, intended to promote women's participation in professional football, features flag football star Diana Flores as she gets chased by a horde of people attempting to capture her flags. At one point in the ad, Flores speeds past a surprised MrBeast in an outdoor mall. The streamer attempts to record the moment on his phone, only to disappointedly proclaim "I missed it."
MrBeast's split-second cameo may have only been captured by those who were paying close attention to the ad, but quite a few eagle-eyed fans of the creator nonetheless took to social media after the spot aired to acknowledge his appearance. The content creator played into the reveal himself as well, making a tweet referencing his single line in the commercial.
I can't believe I missed it

— MrBeast (@MrBeast) February 13, 2023
Of course, MrBeast isn't the first content creator to unexpectedly delve into the realm of the NFL. In January, streamer Dr Disrespect made a surprising public appearance during a NFL playoff game as a hype-man for the San Francisco 49ers. However, the Super Bowl is one of the biggest events around, and MrBeast appearing in one of the NFL's major commercials during the game is a testament to just how uniquely popular the creator has gotten.