The Last Of Us: HBO Fans Think Ellie Just Spotted A Major Part 2 Character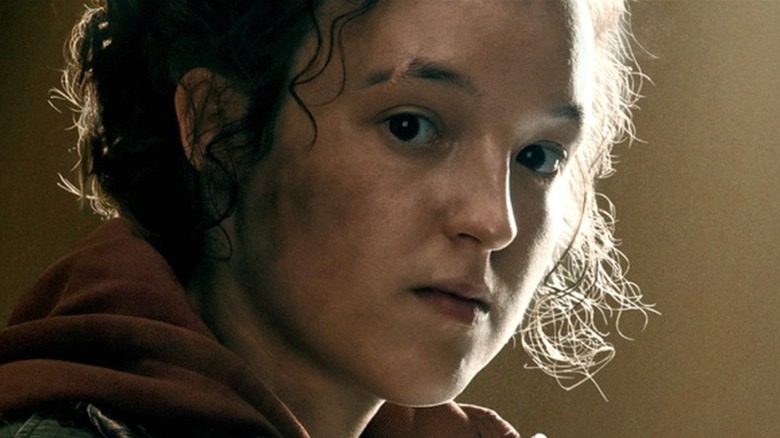 HBO
Spoilers ahead for HBO's "The Last of Us" and "The Last of Us Part 2."
HBO's "The Last of Us" has thus far done an impressive job of adapting the best-selling game while also finding ways to expand on the franchise's mythology. The pilot episode gave viewers more time with Sarah Miller before her tragic death in Joel's arms, while the third episode fleshed out the characters of Bill and Frank in unexpected ways. The latest episode of the series, "Kin," was no different in that regard. The sixth episode of the season not only reintroduced Joel's estranged brother Tommy, but it also may have snuck in a cameo from a major character from "The Last of Us Part 2."
At one point during the most recent episode, Ellie and Joel are finally enjoying a proper meal when Ellie spots a mysterious stranger watching them. Ellie appears to be unsettled by this attention and asks the girl what she's staring at, which prompts the girl to run off. Judging from the character's wardrobe and appearance, fans are almost positive that this is the show's sly introduction of Dina, a character who wasn't introduced in the game series until the events of "The Last of Us Part 2."
Could the Staring Girl really be Dina?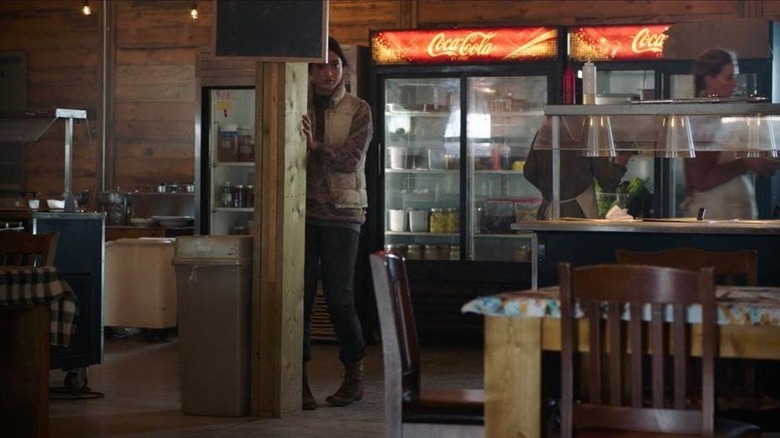 HBO
Before the episode had even finished airing, "WAS THAT DINA" started trending on Twitter, much to the delight of "The Last of Us" co-creator Neil Druckmann.
Ahahaha. Love, y'all! pic.twitter.com/hOQP3XJ2oP

— Neil Druckmann (@Neil_Druckmann) February 20, 2023
Though Druckmann is still playing coy — which he and co-showrunner Craig Mazin continued to do in the latest episode of "HBO's The Last of Us Podcast" — it seems likely that the show is already planting seeds for the second season to adapt the game's sequel. As fans of "The Last of Us" know, Dina ends up becoming a huge part of Ellie's story. After the pair share a kiss at Jackson's town dance, they become a couple. Dina even accompanies Ellie on her vengeful mission to track down the Washington Liberation Front.
Fans have also pointed out that this brief meeting in "Kin" seems similar to a moment that Dina describes in "The Last of Us Part 2," when she tells Ellie about the first time she spotted her in Jackson:
remember when dina told ellie she saw her stealing all the food when she first arrived in jackson and now look at their first time seeing other THIS IS SO 😭😭 #thelastofus pic.twitter.com/70bSedCnLq

— joel miller defender tlou era (@ellievjoel) February 20, 2023
The character in the show, referred to in the credits as "Staring Girl," is played by Canadian actress Paolina van Kleef. At this point, it's unclear if van Kleef will return for Season 2, but viewers will certainly be keeping an eye out for more teases regarding Ellie's future.