Is Jensen Ackles Actually In Atomic Heart?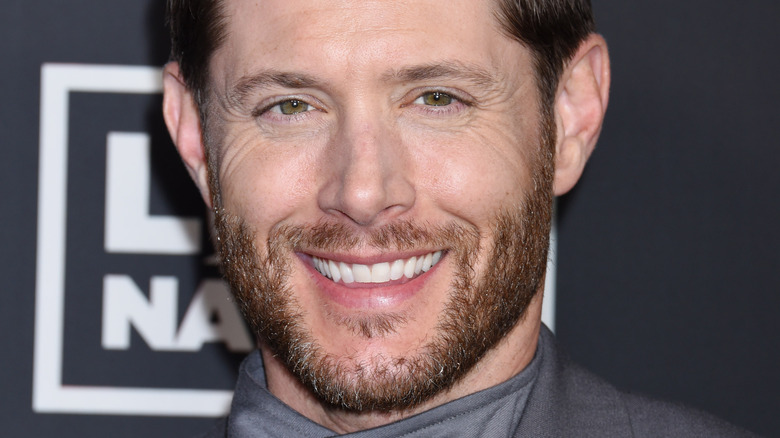 Ga Fullner/Shutterstock
Just one week before the release of Mundfish's "Atomic Heart," gamers were treated to a truly bonkers final trailer for the game. Although this preview showed off a fun montage of gameplay at the very end, the real centerpiece of this ad was the appearance of "The Boys" and "Supernatural" star Jensen Ackles. Taking on the role of the game's main antagonist, the ad sees Ackles laying waste to a group of practice dummies with a variety of weapons and special powers straight out of the game. He even manages to make fun of the recently released "Hogwarts Legacy," seemingly proving that brute force beats magic and wonder any day.
Fans of Jensen Ackles have been thoroughly entertained by the wild commercial, but the ad also led to a bit of confusion regarding the game's cast. If you've seen that new teaser and are wondering if Jensen Ackles is actually in "Atomic Heart," we've got your answer.
Jensen Ackles plays Major Nechaev, but not in the game
Unfortunately for any fans who were hoping to blast away at robot enemies as a virtual Dean Winchester, Jensen Ackles is not in "Atomic Heart." Jensen Ackles may play "Atomic Heart" protagonist Major Nechaev (a.k.a. P-3) in the live-action trailer, but he is not the originator of the role. According to a blog post from Mundfish, Nechaev is played in the game by actor Sasha Lomov, who beat out dozens of other applicants for the job. The reason for this, Mundfish explained, is because "it seems that our actor Sasha Lomov is Major Nechaev himself." In other words, it felt obvious to the development team that nobody else could play the part in-game.
So there you have it. Jensen Ackles got his moment with the franchise via the newest teaser trailer, but Major Nechaev's boots are already being filled in the game itself. Who knows? Maybe Mundfish will keep Ackles in mind for the team's next project. "Atomic Heart" is out now for PC, PlayStation 4, PS5, Xbox One, and Xbox Series X|S.