Why MrBeast Uses Fake Money In Some Videos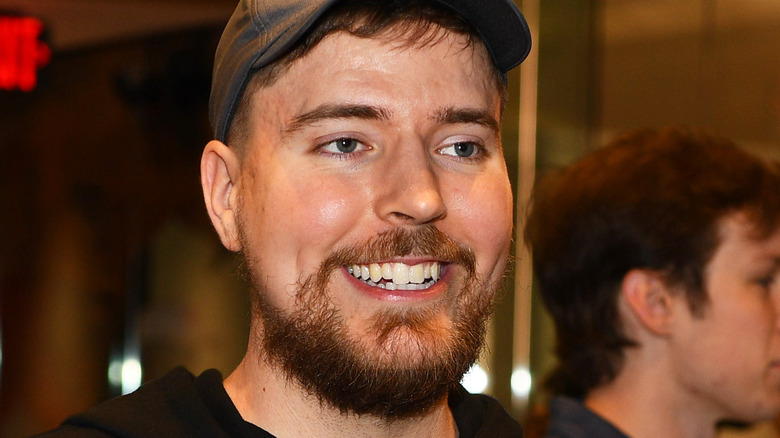 Dave Kotinsky/Getty Images
As many on the internet have seen by now, YouTuber MrBeast has made a name for himself with his interesting stunts but also his grand gestures of philanthropy. However, he was briefly embroiled in a bit of controversy when his fans learned that he wasn't actually handing out huge amounts of cash to strangers, as his videos depict him doing. 
Advertisement
Viewers discovered this in 2019. MrBeast — whose real name is Jimmy Donaldson – published a video in which he rented out a bank for the sole purpose of handing out money to people in the area. At one point in the video, a woman can be seen walking out holding a bunch of dollar bills that read "Motion Picture" on them. At the time, this was a controversial development and likely led some to question the legitimacy of his generosity. A couple of days later, however, he cleared the air during a talk with Keemstar.
Donaldson claimed using real cash would be unsafe
Not long after the fake money was noticed, Donaldson briefly appeared on Keemstar's DramaAlert show to address it via phone call. During the call, Donaldson said that handing out actual cash would have presented "safety and security risks," saying, "imagine when I hand someone ten grand, they walk out the door, and all these people see they have ten grand." He added that such a choice simply wouldn't be responsible.
Advertisement
In some of Donaldson's videos, the people shown receiving cash are then given that same amount in the form of a check off of the camera. The fake cash is used simply because it looks good on film, but the reactions from people are still genuine, he said. Donaldson also pointed out that it was no secret he used fake money on screen. The description of the video clearly points out, "we used motion picture money when making this video." The disclaimer went on to state that "everyone received 100% of the money they were given."