Kai Cenat Just Broke One Of Ninja's Huge Records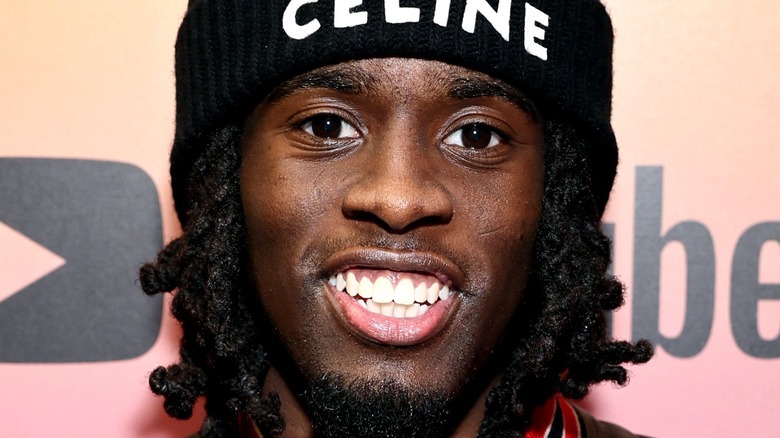 Matt Winkelmeyer/Getty Images
Livestreamer Kai Cenat experienced a meteoric rise in 2022. After bursting onto the scene, this previously unknown content creator quickly caught up with his big-time peers on Twitch in viewers and subscribers. It only takes one glance at his channel to see why. His over-the-top personality and regular high-profile guest appearances make him a standout on the platform. One of Kai Cenat's most popular streams even hit an impressive peak viewer count of 280k, thanks to guest appearances from rappers 21 Savage and Drake.
Not only are his peaks astronomical, but Kai Cenat also has a dedicated audience that can't get enough of him, showing up daily to see what kind of antics he is up to. This has Kai Cenat averaging 60k+ viewers per stream. Additionally, his YouTube channel is sitting at almost 3.5 million subscribers. And it turns out Kai Cenat is only becoming more popular by the day, as he recently broke a massive record that "Fortnite" sensation Ninja previously held.
Kai Cenat surpasses Ninja's subscription record
Kai Cenat transformed February into a prolonged Subathon, attempting to rack up as many Twitch subscribers as possible. During this Subathon, Kai Cenat challenged himself to not turn off the stream at any point, not to even to sleep. While the streamer eventually had to rest, he kept true to his word of letting the stream continue, filming himself as he slept. As a result, he has been livestreaming for 24 hours a day, seven days a week, going for a 30-day streak. And 27 days in, it has paid off. Kai Cenat surpassed Ninja's record for record-high Twitch subscribers of 269,154. Kai Cenat is now sitting at 271,545 subscribers with no sign of slowing down. This is much more significant than a YouTube subscriber count, as Twitch subscribers are paid channel members.
Famously, Ninja achieved his high all-time sub count during the peak of "Fortnite" when everyone and their brother was tuning in to watch Ninja crank 90s. But Kai Cenat isn't riding the wave of a super popular game like Ninja. During his Subathon, Kai Cenat has been putting great effort into making his content interesting, but not solely based on gameplay. For example, he recently took a trip to Universal Studios with fellow streamer xQc and streamed the whole thing. 
The all-time record for Twitch subscribers is 283,066 and is held by Ludwig, who has since moved to YouTube. But at the rate Kai Cenat is going, it won't be long until he surpasses Ludwig as well, becoming the king of Twitch.