The Rarest Shiny In Pokémon Go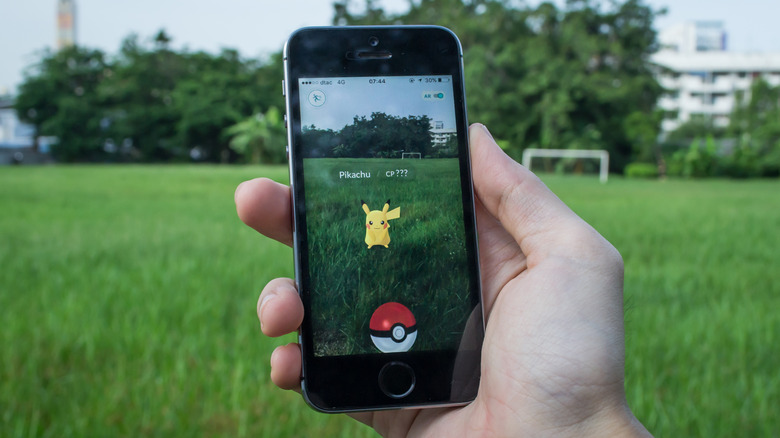 Wachiwit/Shutterstock
Out of all the rare shiny Pokémon in "Pokémon Go," one stands above the rest due to special circumstances surrounding its release -– more on that in a minute. That exceptional Pokémon aside, there is an abundance of exclusive Pokémon that are nearly impossible to catch, with some new limited edition ones just released for Valentine's Day including Shiny Frillish, Shiny Tapu Lele, Mega Gardevoir, and heart-themed Spinda. To exemplify just how many iterations of special Pokémon there are in "Pokémon Go," the dozens of Pikachu options that have been released make a strong case. From safari hats to flower crowns to impersonations of other Pokémon and more, Pikachu's level of variation is indicative of just how far Niantic has gone to keep "Pokémon Go" fresh with unique collectibles.
Though "Pokémon Go" may not be as popular as it was when it first took over the world in 2016, the title continues to satisfy on-the-go gamers hungry to get their pocket monster fixes from the convenience of their phones. The mobile game still receives updates regularly, with rare Pokémon including shinies, costumed creatures, and more.
Given the multitude of rare shiny Pokémon in "Pokémon Go," there are various opinions on which one is the rarest. One stands out above the rest.
Shiny Alolan Grimer's exceptionally rare status
The Pokémon Company
Making its launch during the 3rd-anniversary celebration for "Pokémon Go,"  Shiny Alolan Grimer is rare even amongst his Alolan peers, including other Shiny Alolans released during the event. To unlock this special shiny, players had to score a 7KM egg and walk the distance to hatch this unique Pokémon. Given the contents of an egg are a mystery, players simply had to cross their fingers to hope for a chance at Shiny Alolan Grimer.
To add to the rarity of Shiny Alolan Grimer is the fact that it's no longer available in the wild, which makes it perhaps one of the few Alolan forms unavailable in the game's standard mode of play. While Shiny Alolan Vulpix is also available through hatching a 7KM egg, Shiny Alolan Grimer is much rarer since it's not currently catchable in the wild. This could always change depending on updates implemented by Niantic, but for now, the limited time of Shiny Alolan Grimer's availability combined with the challenge of scoring the exact right egg and walking it 7KM makes this Pokémon the rarest shiny in "Pokémon Go."
Though there are plenty of honorable mentions that could be made, Shiny Alolan Grimer in its sloppy charm takes the cake.