Terrifier Meets WWE 2K23 In Creepy Fan Creation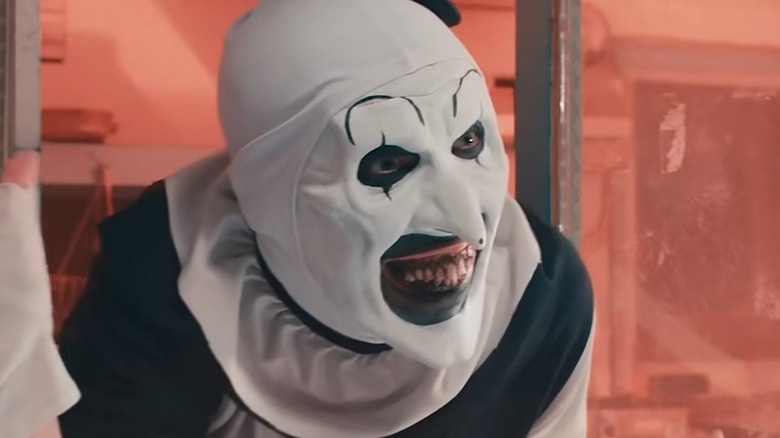 Bloody Disgusting
There are few things more terrifying than a murderous clown. Although Pennywise from Stephen King's "IT" is arguably the most well-known killer clown, he doesn't get to have all the fun. 2016's cult classic "Terrifier" cemented the legacy of an even bloodier clown, one that many think could become the next horror icon. And now he's a wrestler.
Advertisement
Fans of the ultra-low-budget movie "Terrifier" and the 2022 sequel "Terrifier 2" just can't get enough of Art the Clown. His pale face and proclivity for gory violence make him a thing of nightmares that some don't want to wake up from. So, what better way to see more of him than by letting him loose in a video game?
Gamers can now play as Art the Clown in "WWE 2K23," only days after the release of the newest entry in the popular wrestling video game series. However, players will need to adjust a few settings to nab the clown for themselves. And it may surprise gamers that the individual who wanted to see Art the Clown in "WWE 2K23" the most was more than just a fan.
Art the Clown is terrorizing WWE 2K23
On the same day "WWE 2K23" hit shelves, "Terrifier 2" producer Steve Barton tweeted that he was able to add Art the Clown to the game, thanks to the game's character creation feature. "Come and get him," Barton exclaimed as he announced that players can now download a few different versions of the murderous clown for themselves on PS5 and Xbox X|S. A few images attached to the tweet also show off Art's custom attacks and poses, which should get horror hounds even more hyped.
Advertisement
Come and get him! #arttheclown in #wwe2k23. 2 variants – clean and bloody. Custom move set, entrance, and victory. Available to download NOW via community creations on PS5 and Xbox X/S. #terrifier #terrifier2 #caw @WWEgames pic.twitter.com/XIZ0LuxEFw

— Steve Barton (@UncleCreepy) March 16, 2023
Players can access Community Creations under the Online tab in the main menu, where they can search for "Terrifier" and find the skin. However, depending on the console, players may also need to turn on Cross-Platform Community Creations. To turn on cross-platform sharing, players must go to the Online Options menu to the right of Community Creations. Then, scroll down to Community Creations and turn on "View and Share Creations with Other Platforms." Players must also make a 2K account, if one is not already connected.
Advertisement
Although it may be some time before "Terrifier 3" hits theatres, fans can at least wreak havoc as Art the Clown in a video game while they wait.