Ghostwire: Tokyo: The Spider's Thread - Every Feature Added In The Free Update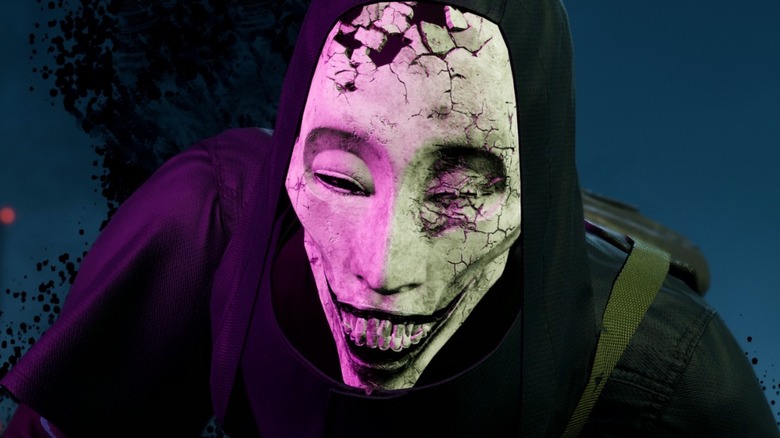 Bethesda
A free update for "Ghostwire: Tokyo" drops on April 12. Announced by Bethesda on March 15 with a 21-second trailer and a blog announcement, "The Spider's Thread" will bring a plethora of content to the popular game that's generally done well with critics.
In addition to a host of new features, "Ghostwire: Tokyo: The Spider's Thread" represents a new chapter in the game's story. The same day the update releases, the game will also come to Xbox Series X|S for the very first time. It'll also be available on PS5, PC, Xbox Game Pass, and PC Game Pass. The complimentary game enhancement is described by Bethesda as bringing "multiple additions to the main game such as more areas to explore, new story cutscenes, quality-of-life improvements and more, as well as an all-new Spider's Thread mode!"
Clearly, there's a lot of novelty around the corner for "Ghostwire: Tokyo" fans, and that's saying something considering the game already offers dozens of hours of playtime. Luckily, there are even further details on exactly what gamers can expect. Here's what Bethesda explained.
Ghostwire: Tokyo's The Spider's Thread update thoroughly expands the game
"Ghostwire: Tokyo" coming to Xbox for the first time is a huge bonus on top of the core content of Bethesda's announcement. True to its name, "The Spider's Thread" will introduce a new game mode matching the update's title. This special mode seems to mirror roguelike gameplay, offering 30 stages constructed from over 130 different levels. Players start over after their death but benefit from permanent upgrades. In the age of "Hades" and other noteworthy roguelikes and roguelites, this creative addition couldn't have come at a better time.
A few new locations are on their way to "Ghostwire: Tokyo," thanks to "The Spider's Thread" update, including a creepy middle school, as well as never-before-seen cutscenes and missions. Additionally, players will be able to choose "Reduced Horror Effects" to soften the thrill of the game and replace the more horrifying aspects with cute stickers. New enemies are also on the radar, as well as new combat capabilities to take them down, including Quick Dodging, Charge Rush, and Counter-Attacks.
Last but not least amongst the updates is an enhanced photo mode, complete with stamps, unlockable additions, and more. Even with all those updates, Bethesda also teased the fact that more secrets will be revealed. Thanks to "The Spider's Thread" update, April 12 sure is a day to look forward to for "Ghostwire: Tokyo" fans.