Toxic Crusaders: Everything We Know About The Throwback Beat-Em-Up
Games based on popular '80s and '90s media seem to be having a moment. "TMNT: Shredder's Revenge" launched in 2022 to praise from critics, and now another series from that era is getting its own throwback beat-em-up style game with "Toxic Crusaders."
Advertisement
Younger gamers may not be familiar with the mop-wielding mutant but Gen-Xers and older Millennials will likely remember "The Toxic Avenger." The campy film that blended action, comedy, and horror, along with an environmentalist message, became a cult classic and spawned a whole franchise that included movie sequels, a children's cartoon, and a video game. These latter entries also introduced the idea of teaming up the Toxic Avenger with his own superhero team, giving fans the "Toxic Crusaders."
Many have been looking forward to the upcoming reboot of the movie series, which hit a production milestone back in 2021, and now they can look forward to a new game that revives the "Toxic Crusaders" crew with a retro style worthy of the series.
Advertisement
Does Toxic Crusaders have a release date?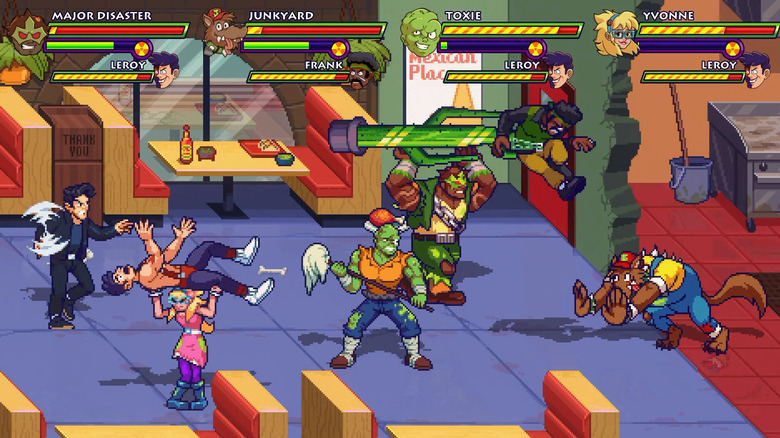 Retroware
"Toxic Crusaders" doesn't have a set release date yet but it does have a Steam page that lists an intended 2023 release, so fans can expect to get it later this year. Developer and publisher Retroware has also announced that they will be letting gamers play it at PAX East at the end of March. This would seem to indicate that the game is more or less finished, so there likely won't be too much of a wait for the official launch.
Advertisement
Whenever it releases, "Toxic Crusaders" will, initially, only be available on Steam. Console gamers shouldn't despair, however. Retroware has explained that it wants to bring the game to all consoles at some point, but it will rely on success on Steam to make that happen. Fans eager to play will need to make sure they have a PC ready to go or will have to urge their PC gaming friends to pick it up to support the later porting to consoles.
Is there a trailer for Toxic Crusaders?
In its announcement tweet, Retroware shared a trailer for "Toxic Crusaders" that shows off the gameplay and gives players a good sense of the style and tone of the game. Clearly, Retroware is living up to its name. 
Advertisement
From the environmental design to the characters to the rock theme song playing in the background, everything has an early '90s feel. The trailer also reveals that the cutscenes will play out like comic book panels that are sure to evoke the same nostalgia from gamers who lived through that time or enjoy older titles. Fans will also be pleased to hear that the gameplay will feature voice acting for all the characters, which will help bring the world to life. 
Overall, it seems that "Toxic Crusaders" is looking to give fans the feel of living through a Saturday morning cartoon, complete with goofy villains and even goofier heroes. As for the gameplay, it's plainly inspired by the co-op fighting games of arcades and older consoles.
Advertisement
What will Toxic Crusader's gameplay be like?
Retroware
The gameplay for "Toxic Crusaders" will be classic beat-em-up combat in a 2D, side-scrolling environment. The game will support up to four players with the option to choose from Toxie, the Toxic Avenger, and six other members of the Toxic Crusaders. The game features seven levels that show off different locations and will see Toxie and his team taking on Dr. Killemoff, the polluting alien villain from the original cartoon.
Advertisement
Each character will have their own moves and powers to try out. With more characters than can be played by a full group at once, this should add some replay value to the game. Retroware is also promising appearances by characters from other movies originally produced by the studio that made "The Toxic Avenger." This won't mean much to some, but movie buffs who love classic camp will surely get a kick out of seeing references to films like "Class of Nuke 'Em High" and "Poultrygeist: Night of the Chicken Dead."
Fans of campy movies, '90s nostalgia, and retro gaming beat-em-ups will all have plenty to enjoy with this release. Gamers will want to keep an eye out as the year moves forward.