Fortnite X Resident Evil: The Skins And Accessories You Can Get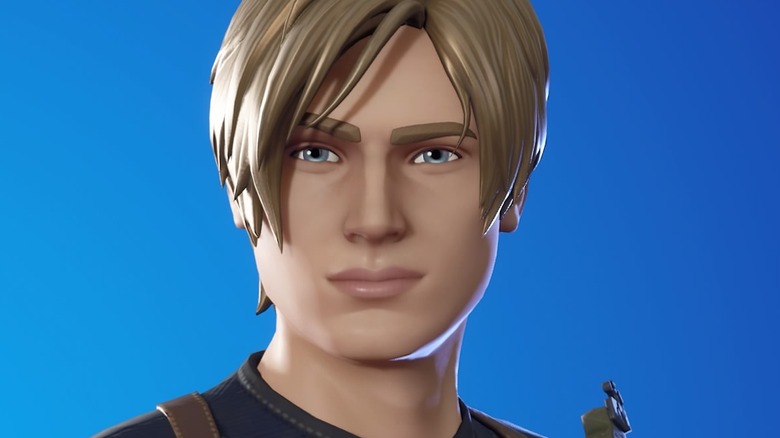 Epic Games
Epic Games just can't get enough of Capcom collaborations, it seems. Not only has the cast of "Street Fighter" put in an appearance in "Fortnite," but the survival horror legends from "Resident Evil" have taken aim at the battle royale on more than one occasion. In 2021, "Fortnite" players could pick up Chris Redfield and Jill Valentine skins. With the release of the "Resident Evil 4" remake, the horror series is returning to "Fortnite" with new items and characters.
Gamers can now pick up Leon S. Kennedy and Claire Redfield costumes in "Fortnite." Fans will the pair as protagonists who first entered the zombie-filled series with "Resident Evil 2," with Leon arguably being known even better as the sole protagonist of "Resident Evil 4." In addition to the character skins, players can also purchase two exclusive Back Blings and Pickaxes themed around the horror franchise.
However, some may be disappointed to learn that these skins do not get alternate versions, like the Chris Redfield bundle did. So for instance, gamers won't be able to switch between "Resident Evil 2" and "Resident Evil 4" Leon. Still, these new items are stylish enough that no "Resident Evil" superfan will want to pass them up.
Leon and Claire drop into Fortnite
Gamers can nab the Leon S. Kennedy and Claire Redfield costumes for 1500 V-Bucks each. Some fans may be disappointed to find that Leon is not sporting his iconic "Resident Evil 4" jacket, but he still looks pretty cool.
Two Pickaxes are also available in the shop as part of this collaboration. For 500 V-Bucks each, players can nab Leon's Combat Knife or the Umbrella Parasol, a cheeky reference to the villainous Umbrella Corporation. But there's even more for gamers who snag the complete bundle.
For 4000 V-Bucks, gamers can pick up the Raccoon City Survivors Bundle, which includes all the previously listed items in addition to two exclusive Back Blings. The first Back Bling is Leon's strangely spacious Attache Case that holds all the player's weapons and items in "Resident Evil 4." The second Back Bling is an R.P.D. board with the iconic "Resident Evil 2" keys attached. Although 4000 might seem like a lot at first, $60 will allow diehard fans to relive the 90s with two of the most beloved survival horror heroes of all time.