Pokémon Fans React To Ash's Final Episode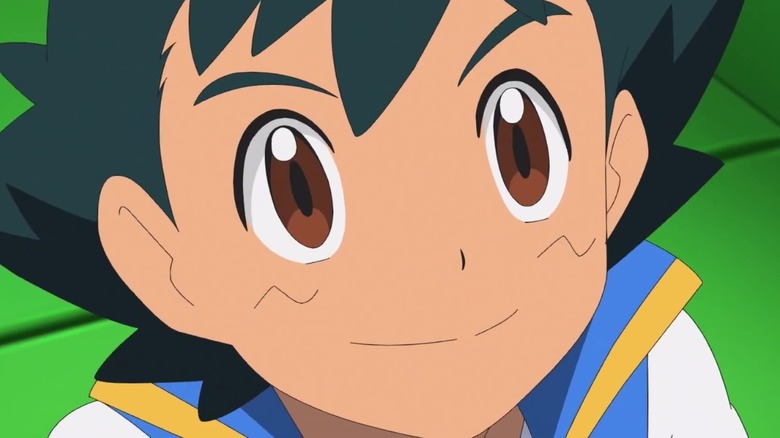 Netflix
After becoming world champion, there wasn't much left for Ash to accomplish in the "Pokémon" anime series, and fans quickly prepared to say a long goodbye to their favorite Pokémon Master. Now, with the final episode featuring Ash released, fans are responding with all the nostalgia and love that one might expect. In the final episode, Ash returns home for a visit, encountering many of his old friends along the way. Finally, his mother discovers his beaten, worn down pair of sneakers in his room, and viewers see him walking a new path in fresh kicks. Of course, Pikachu is by his side. It may not have been the perfect ending fans got 24 years ago in the Pokémon manga, but it felt beautiful all the same.
Where he is going?
Thank you so much for all these 26 years, Satoshi! You will be missed! I know very well he will be a good Pokemon Master!
With this special ending "Type: Wild", this is how the era of Satoshi reaches its end!#アニポケ #anipoke #Pokemon #TVO #TvOsaka pic.twitter.com/Sv1R1Xcl1a

— Marco_G99 / マルコ99 (@Marcouli99) March 24, 2023
The ending itself left the metaphorical Pokéball open, suggesting that Ash and Pikachu will continue their adventure, even if viewers won't be joining them for that journey. Longtime fans of the anime had nothing but gratitude for their many years spent with Ash, and said as much on social media in response to his final episode.
One fan suggested that the journey was "never-ending," screencapping one of the final frames of the episode.
🌸The Greatest Never Ending Journey of Legends in one frame!!!🌸

~Ash ,Pikachu and Team Rocket~
Forever in our hearts!💖💖💖#anipoke #pokemon #ThankYouAshAndPikachu #ThankYouTeamRocket pic.twitter.com/MuheZ3uFld

— Pokémon Master ✨ASH✨💧 (@PokeMegha) March 24, 2023
As Team Rocket flies overhead in their hot air balloon, Ash continues walking down the path to who-knows-where, ready to take on anything that comes his way. This open ending pleased fans who wanted to retain the possibility of Ash returning.
A fitting end for a Pokémon master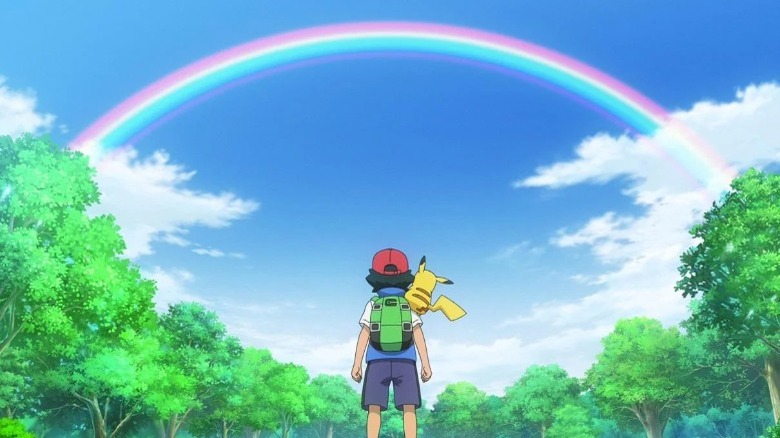 Netflix
One fan pointed out that the ending of the episode did not feature its usual "To be continued..." message at the bottom of the screen. Instead, it emphasized that the next episode would be the start of something new.
Ash's Journey as the Pokemon protagonist has come to an end. Will we ever see him again? Maybe someday.

The Pokemon Anime does not end the episode with "To Be Continued...", it's "Next time... a New Beginning!"

Let's see how the new generation takes it... #ThankyouAshandPikachu pic.twitter.com/SZMHSp35Li

— TRAFON(s Backup Account) (@RiseFallNickBck) March 24, 2023
The final moments of the episode feature Ash and Pikachu choosing which way to go at a forked path. Ash throws a stick in the air, hoping it'll point him in the right direction. One viewer suggested that this means that Ash will continue on one path, while viewers will go another.
Ash will still adventure, and so will the viewers, just with a new companion. Fans and professionals alike seemed thankful for the journey and excited about what comes next. One Poké-fan shared a heartfelt message thanking Ash for the many years of good memories, writing, "You Were The Very Best Like No One Ever Was, My Pokemon Master."
As I continue recording the final episodes of Ash and Pikachu's journey on Pokémon, I'd like to thank and congratulate the incredible woman who has inspired my performance as the English voice of Ash Ketchum for the last 17 years, @rica_matsumoto3. 👏👏👏#ThankYouAshandPikachu pic.twitter.com/3gzhLjc5fm

— Sarah Natochenny (@sarahnatochenny) March 24, 2023
Sarah Natochenny, who voices Ash in the anime's English dub, also shared her gratitude to the original voice actor of Ash, Rica Matsumoto, and congratulated the entire team that worked on the final episode. It's an amazing accomplishment, but hopefully just the start of a beautiful new journey.