Earthworm Jim 4: The Bizarre Saga Of The Cancelled Intellivision Amico Exclusive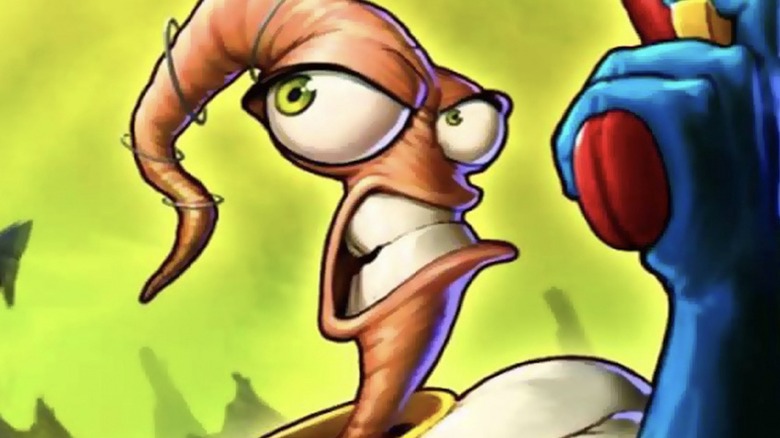 Interplay Entertainment
"Earthworm Jim" has not had the best luck for the past two decades. The muscular invertebrate starred in two games that pioneered the platforming genre before disappointing gamers with unbalanced entries deprived of the same goofy, cow-catapulting action and charm. What happened to "Earthworm Jim" has not helped Interplay Entertainment in the least, although the publisher tried to make a comeback when it announced "Earthworm Jim 4" in 2008. No details on platform, release, story, or gameplay accompanied this announcement, and in fact, it took more than a decade for fans to learn the true fate of "EWJ 4."
Advertisement
The downfall of "EWJ 4" derived in part from the Intellivision Amico, a new family-friendly console announced in 2018. Taking inspiration from the Mattel Electronics console of the 1980s, the Intellivision, the Amico ended up as the exclusive platform of choice for the new "Earthworm Jim." At least, that was the announced plan until multiple controversies erupted around the Amico, Intellivision, and two "EWJ" industry icons.
An un-groovy foundation
Interplay Entertainment unearthed the worm in 2008 with its announcement of "Earthworm Jim 4," and even an "Earthworm Jim" cartoon, both projects featuring series creator Doug TenNapel as a creative consultant. Unfortunately for gamers, Interplay followed up with two years of silence.
Advertisement
When Doug TenNapel finally spoke up to GamesRadar+, he shared that development had yet to start at all. "The first thing we would do if anything true was confirmed is announce it from the rooftops," TenNapel said. "It won't come from blogs or speculation. Until there is an announcement, there is no development, nothing is confirmed and there is no real news about EWJ."
TenNapel preceded this comment by explaining how early game development can frequently get hairy. The argument has historical merit: a number of modern games famously took a while to hit developmental stride. For example, "Cyberpunk 2077" faced several delays and even restarted development in 2016 after CD Projekt Red announced it years prior.
Advertisement
On the other hand, Interplay's foundation to build a new "Earthworm Jim" proved shaky from the outset. Tight finances forced it to give up the fabled "Fallout" series in 2007, picked up by Bethesda. Moreover, the 2008 announcement came off a decade spent accumulating debt, which forced Interplay into bankruptcy by the end of the year. While Interplay painted a positive future for "EWJ," the publisher's financial status and lack of progress with the game after two years suggested otherwise.
Intellivision Amico downfall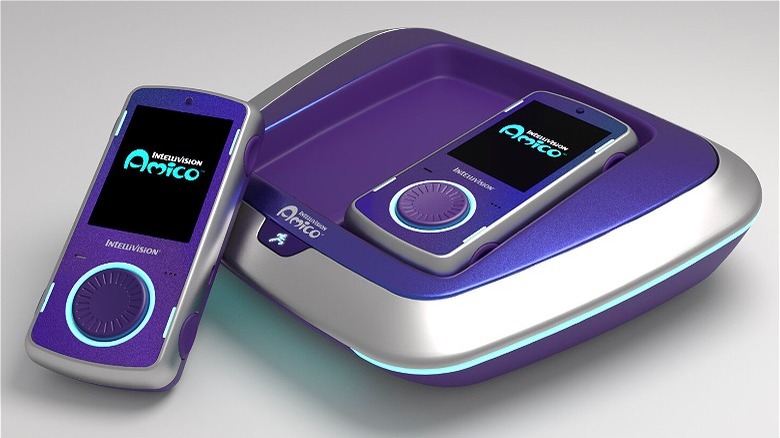 Intellivision
It took until 2019 for Interplay to find a partner console for "Earthworm Jim 4." Rather than Xbox, PlayStation, or Switch, the publisher tethered its proposed game to the Intellivision Amico, an up-and-coming console marketed as affordable and fun for all ages with no games rated beyond E10+.
Advertisement
"Earthworm Jim 4" launching on Intellivision made sense in more ways than one, since then-Intellivision CEO Tommy Tallerico composed the soundtracks for the first two games. Yet similar to series creator Doug TenNapel having a shady side, fans began to question Tallerico's good will when the company kept pushing back the console launch window to ask for more crowdfunding. Even after four successful campaigns in a row adding up to over $18 million, Tallerico repeatedly broke his promise to deliver the Amico. An SEC filing showing the extent of Intellivision's debt made it even clearer the Amico, and therefore "EWJ 4," may not release at all.
Contributing to the dubious state of "EWJ 4," it took until 2020 for the game's creators to come out with less than 30 seconds of footage showing Jim in action: more a teaser than a gameplay trailer. This footage comprised all fans would see of "EWJ 4."
Advertisement
Interplay looks forward to pursuing other opportunities for Jim

— Interplay (@InterplayGames) February 10, 2023
The worm sundried for good in a tweet from Interplay addressing rumors of the game's cancellation. Whether or not the series creators have given up on "Earthworm Jim 4" entirely, the controversies surrounding Tallerico, TenNapel, and the Intellivision Amico have not reflected favorably on the legacy of the series.