Naughty Dog Responds To The Last Of Us' Messy PC Launch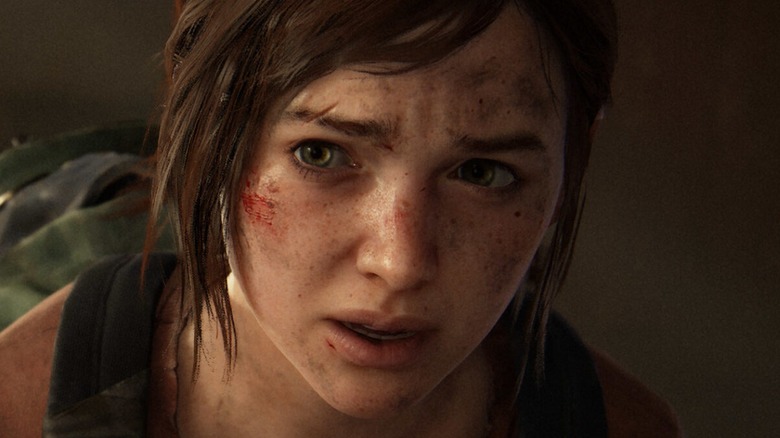 Sony Interactive Entertainment
"The Last of Us Part 1" just came to PC and the launch has been a bit of a mess. The game was delayed from March 3 to March 28 so that Naughty Dog could release it "in the best shape possible," but in spite of the extra time in development, players of "The Last of Us Part 1" have already reported all kinds of issues one day after launch. These problems ranged from characters appearing to be soaking wet in cutscenes when they have no reason to be, to poor VRAM optimization and outright crashing. It doesn't end there though. Fans have also complained about constant loading times that disrupt gameplay and random artifacts that appear in the middle of the game — and all of that after waiting as long as an hour for shaders to build before they can even start to play.
Things seem to be even worse on the Steam Deck. In addition to all the performance problems players are experiencing on PC, numerous texture issues have been reported on the  handheld that seem to make the character's hair look like it was drawn in MS Paint. All of this has resulted in the game – which had received early critical success on the PS5 – getting Mostly Negative reviews on Steam.
Luckily, Naughty Dog has immediately stepped forward to address fans' concerns.
Naughty Dog promises to fix the issues in future patches
On March 28, the same day that the game launched, Naughty Dog released a statement on its Twitter account stating that the studio is aware of the issues and has a plan to fix them — though individual error patches might be taking a backseat to general game updates. Naughty Dog also shared its list of known issues for players to reference and encouraged them to report any issues that they were having with "The Last of Us Part 1" via the studio's support page.
The Last of Us Part I PC players: we've heard your concerns, and our team is actively investigating multiple issues you've reported.

We will continue to update you, but our team is prioritizing updates and will address issues in upcoming patches.

— Naughty Dog (@Naughty_Dog) March 28, 2023
Some fans seemed eager to forgive the studio, given its history, but others were more critical. "This isn't some day-1, overloaded server issue," user @Soul_Harbor wrote. "They were aware of the issues before shipping the game. That's the problem. There were no early reviews of this game for that reason. No hype. No marketing. For that reason. They don't deserve a pass for this."
"The Last of Us Part 1" isn't the first major PlayStation exclusive to come to PC. Ports of games like "Horizon Zero Dawn" and Santa Monica Studios "God of War" seemed to transition with little issue. Hopefully, this was just a blip and future Naughty Dog port launches will go a little more smoothly.