Why The Cast Of Crime Boss: Rockay City Sounds So Familiar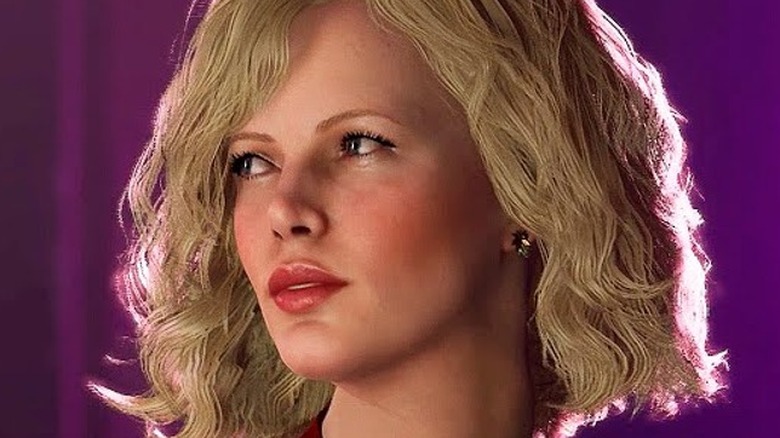 505 Games
After 505 Games and developer InGame Studios unveiled "Crime Boss: Rockay City" at The 2022 Game Awards, commenters flocked to Twitter to compare it to "Grand Theft Auto." When the game was released, it turned out to have more in common with the "Payday" franchise, though critics agreed that it didn't build on the legacies of either series. As the marketing materials made clear, the creators had gone all in on offering gamers a heavy dose of nostalgia along with a star-studded cast to distinguish it from similar titles.
"Crime Boss: Rockay City" places its high-profile performers center stage, where they serve either as members of the core crew or rivals looking to expand their own territory. "In 'Crime Boss' the Hollywood superstars do play their most iconic characters from the '90s," head of development Jarek Kolar explained to GamingBolt. "We haven't cast them in our story, we have invited them to go back in time, let them again experience what they have been famous for since 30 years ago."
Players may have felt many of the cast members looked and sounded familiar while building their criminal empire in "Crime Boss: Rockay City." Here's where you've probably encountered these performers before.
Michael Madsen - Travis Baker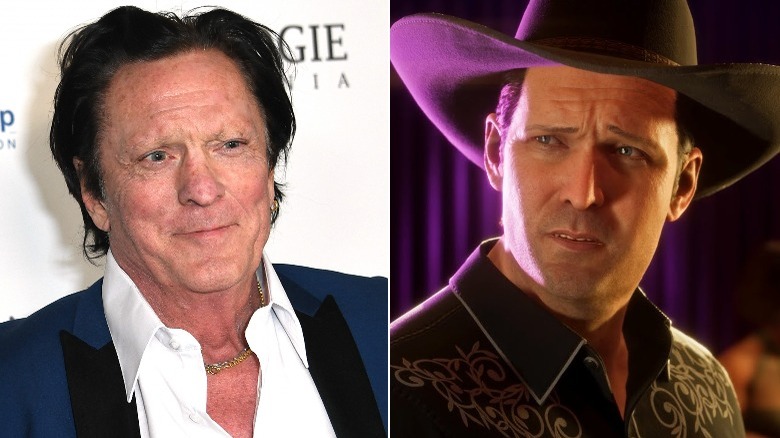 Albert L. Ortega/Getty Images/505 Games
"Crime Boss: Rockay City" follows Travis Baker's bid to seize control of the titular location as the next Crime King. InGame Studios turned to the prolific film and TV actor Michael Madsen to bring the smooth-talking cowboy to life.
Madsen has well over a hundred credits to his name and a long history of portraying individuals who find themselves on the wrong side of the law. In Quentin Tarantino's neo-noir classic "Reservoir Dogs," he played Mr. Blonde, one of the eight crew members who pull off the doomed diamond heist at the center of the narrative. He has turned up in several other notable Tarantino projects over the years, including "Volume 1" and "Volume 2" of "Kill Bill" as Bill's brother, Budd (another role where he sported a cowboy hat), and "The Hateful Eight."
Beyond his film career, Madsen has voiced characters in a variety of other video games. He played Mafia member Antonio "Toni" Cipriani in "Grand Theft Auto 3" and the assassin Daud in "Dishonored." He reprised the latter role as the playable character in "The Knife of Dunwall" and "The Brigmore Witches" DLC before turning up again in "Dishonored: Death of the Outsider."
Kim Basinger - Casey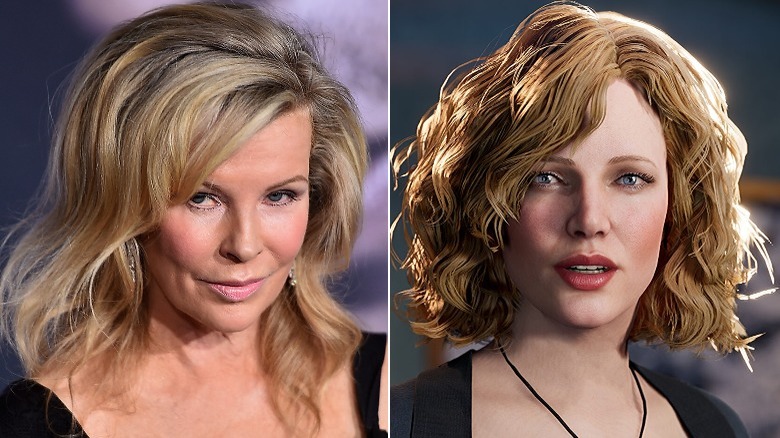 Alberto E. Rodriguez/Getty Images/505 Games
Casey deals in connections and holds the key to gaining access to Rockay City's most notable residents. Within a criminal empire, who you know can spell the difference between success and failure. American actor Kim Basinger provided the voice and likeness for the "Crime Boss" golden girl, marking her first appearance in a video game.
Basinger got her start back in the mid-'70s by appearing on several TV shows. By the following decade, she had made the transition to the silver screen. During this time, she landed her breakout role as Bond girl Domino Petachi opposite Sean Connery in 1983's "Never Say Never Again." Six years later she played Batman's love interest, photojournalist Vicki Vale, in the 1989 film starring Michael Keaton. Similar to Madsen, Basinger has a history with the neo-noir genre. Her portrayal of sex worker Lynn Bracken in the critically lauded "L.A. Confidential" earned her an Academy Award for Best Supporting Actress in 1998.
Danny Trejo - The Dragon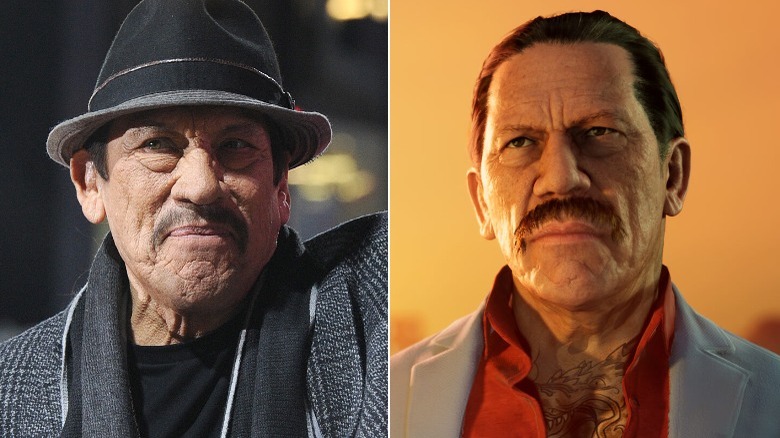 Albert L. Ortega/Getty Images/505 Games
In "Crime Boss: Rockay City," actor Danny Trejo voiced Eduardo Reyes a.k.a. The Dragon. Eduardo served as the former Crime King's second-in-command for many years before managing to leave the business for a much safer and more low-key life. When his previous boss unexpectedly bites the dust, he comes out of retirement to take the crown for himself.
Los Angeles native Trejo has earned over 400 acting credits since entering the biz four decades ago. His work spans TV series, films, and video games, and he has referred to himself as "the king of independent movies" (via The Hollywood Reporter). Before the Marvel Cinematic Universe took over Hollywood and smashed box offices, Trejo played the titular Mexican superhero in "Machete" and "Machete Kills." While not the biggest hit with critics, Trejo expressed pride in the lead character's cultural relevance after seeing Mexican children dress up as Machete for Halloween.
Some of Trejo's other notable parts include the hitman Navajas in "Desperado," vampire Razor Charlie in the cult classic "From Dusk Till Dawn," and Gilbert Trejo in the 1995 crime film "Heat." Prior to "Crime Boss: Rockay City," he also voiced characters in "Grand Theft Auto: Vice City" and "Fallout: New Vegas," among other games.
Danny Glover - Gloves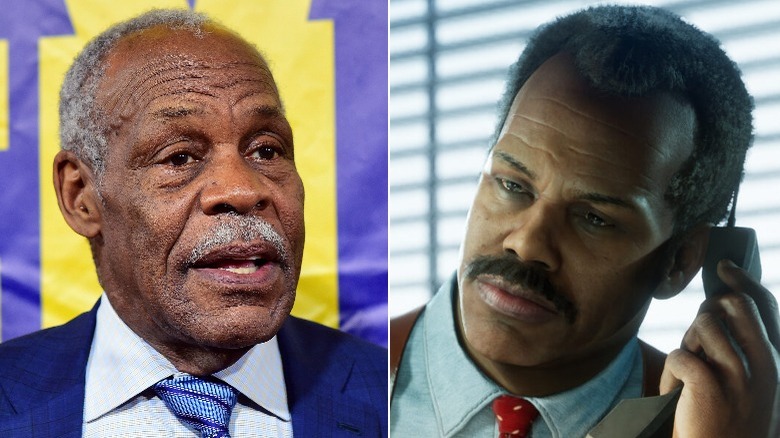 Roberto Serra - Iguana Press/Getty Images/505 Games
R.W. Stewart a.k.a. Gloves kicked off his criminal career late in life. He spent years trying to clean up Rockay City as a police officer before a frame job destroyed his reputation and job prospects. Faced with this new reality, he turned to his underground connections to make a living.
Danny Glover played the disgraced cop in "Crime Boss: Rockay City" whose street name clearly serves as an homage to his real-world counterpart. Glover has a long history of acting and humanitarian work. He first appeared on-screen in the late '70s and his role as Roger Murtaugh, one of the two main characters in "Lethal Weapon," eventually made him a household name. He has kept busy for the past four decades, often popping up in as many as 10 projects per year. No stranger to voiceover, he has brought characters to life in animated offerings like "Antz" and "The Prince of Egypt," as well as the film and video game versions of "Barnyard."
Michael Rooker - Touchdown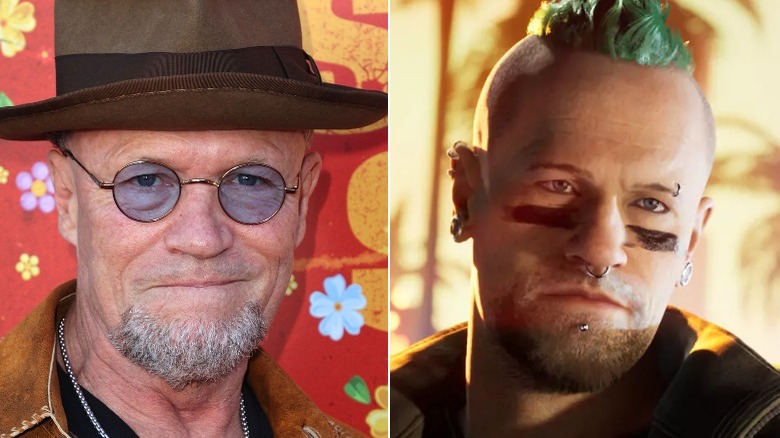 Kevin Winter/Getty Images/505 Games
As his street name suggests, Troy Dalton a.k.a. Touchdown once had a promising football career ahead of him as a halfback. His prospects took a turn for the worse when he found himself on the bad side of a team owner, and he has since joined forces with his old pal Travis to play a far more deadly game in the darkest corners of Rockay City.
Alabama-born actor Michael Rooker infused Touchdown with his signature energy and style. Rooker has played a number of notable film and television antagonists over the years, starting with his breakout role as the titular murderer in 1986's "Henry: Portrait of a Serial Killer." Marvel devotees will likely know him best as Yondu from the first two "Guardians of the Galaxy" entries, while "The Walking Dead" fanbase would recognize him as Daryl Dixon's troublesome elder brother, Merle. Rooker also dipped his toes into the DC waters as the short-lived Savant in James Gunn's "The Suicide Squad."
Off the silver screen, players can find Rooker in multiple video games. He appeared as himself for the Call of the Dead map in "Call of Duty: Black Ops." He later returned to the franchise to voice Master Chief Petty Officer Mike Harper in "Black Ops 2." He also turned up in yet another James Gunn endeavor – the hack-and-slash title "Lollipop Chainsaw" – as Vikke, one of the Dark Purveyors protagonist Juliet must beat on her journey.
Vanilla Ice - Hielo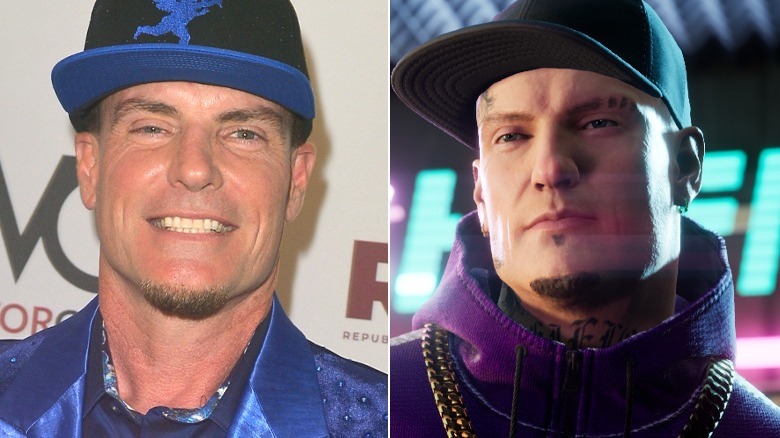 Johnny Louis/Getty Images/505 Games
Henry Hubbard, or Hielo, serves as one of the rival crime bosses Travis must contend with to become the next Crime King. A hardcore partier, Hielo views life as a buffet of endless opportunities – both for fun and profit. Hielo is right at home in a recording studio, which doesn't come as much of a surprise considering who voiced him: rapper Vanilla Ice of "Ice Ice Baby" fame. In fact, Hielo means "ice" in Spanish and the character even sports the signature baseball cap and tracksuit look associated with his real-world counterpart.
Outside of his music career, Vanilla Ice has accumulated a few acting credits, starting with his feature film debut in the widely panned musical comedy "Cool As Ice." This earned him his first two Razzie nominations, with his third materializing after he appeared as himself in the Adam Sandler satire "That's My Boy." He joined forces with Sandler again in 2015 for "The Ridiculous 6," in which he played American writer Mark Twain. The Western distinguished itself as one of only a small number of movies to ever achieve a 0% on Rotten Tomatoes.
Chuck Norris - Sheriff Norris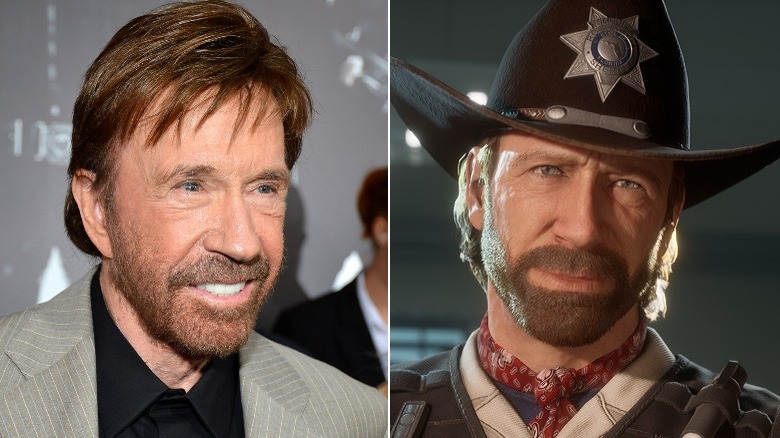 Frazer Harrison/Getty Images/505 Games
Described as "a legendary ass-kicking lawman who rides the dusty trail," many players probably recognized the inspiration and voice actor behind Rockay City's Sheriff Norris right away. The pillar of justice takes on the local underworld with style, delivering a swift roundhouse kick to the faces of those who stand in his way.
Surprising no one, Chuck Norris provided the voice and likeness for the rather eccentric lawman. The developers clearly drew on Norris' most iconic role, Cordell Walker of the long-running "Walker, Texas Ranger" show, when designing the character. Though not as notable as Ranger Walker, Norris has played a few dozen other parts across movies and television during his multi-decade acting career. The list includes the 1972 martial arts film "The Way of the Dragon" where he appeared alongside Bruce Lee. He also popped up in "The Expendables 2" with several other action stars.
Prior to "Crime Boss: Rockay City," Norris had not been featured in any video games. He has crossed into other entertainment mediums before, however, and even received his own Marvel comic book run in the '80s: "Chuck Norris and the Karate Kommandos."
Damion Poitier - Nasara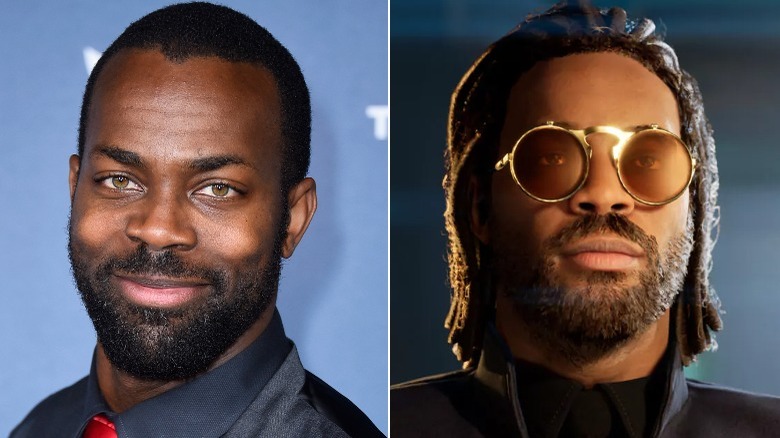 Frazer Harrison/Getty Images/505 Games
Nasara functions as Travis' second-in-command, helping him handle the logistics of taking over Rockay City's underworld. He also has a more personal quest for revenge to contend with, which sees him trying to track down whoever left him for dead on the beach.
Stuntman and actor Damion Poitier, the voice behind Nasara, has taken on dozens of film and TV projects since the early 2000s. Before Josh Brolin stepped in, Poitier appeared as Thanos in the post-credits scene of "The Avengers." DC Comics fans may know him better as recurring antagonist Goldface in The CW's "Arrow" spin-off "The Flash." Meanwhile, gamers may have encountered him in the series "Crime Boss: Rockay City" seems to have drawn quite a bit of inspiration from: "Payday." Poitier voiced Navy veteran and Payday Gang member Chains in "Payday 2" before reprising the role in the short-lived "Payday" web series.
In addition to bringing Nasara to life, Poitier worked on the writing team for "Crime Boss" (via Wccftech). He helped refine many of the characters, an experience he described as "incredibly enriching." It also illuminated for him just how much work it takes to create a video game. This remains true even for titles like "Rockay City" which may not have been as well-received as the developers hoped.